Euro-Area Inflation Hits 2% Level Amid Boost From Oil Prices
(Bloomberg) -- Euro-area inflation hit the 2 percent level in June for the first time in more than a year, supported by higher oil prices.
The pickup in rate of price growth to just above the European Central Bank's target was in line with the median estimate of economists surveyed by Bloomberg. The core measure, which excludes volatile components such as food and energy slowed to 1 percent, while services inflation cooled to 1.3 percent.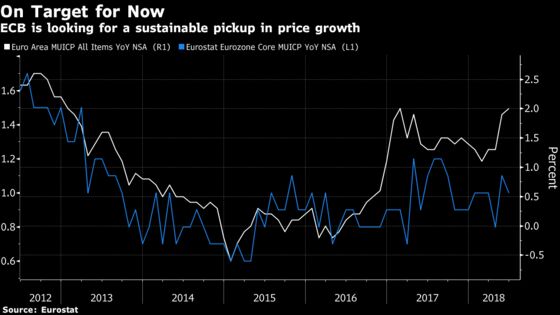 While the acceleration will be welcomed by the ECB -- inflation was just 1.3 percent at the start of the year -- policy makers are really looking for a solid pickup that won't require monetary support.
They have expressed confidence that inflation is converging sustainably toward their goal of just under 2 percent and plan to wind down the ECB's bond-buying program at the end of this year.
What Our Economists Say:


"Headline inflation is up on oil, that says little about underlying cost pressure in the euro area. Services inflation plunged, a troubling sign for the European Central Bank if it's sustained. Yet there are good reasons to think it won't be -- the series is volatile partly thanks to gyrations in the cost of package holidays."

--David Powell, Bloomberg Economics. Full React here.
Much of the ECB's confidence is linked to employment, which has benefited from continued economic growth. "Domestic cost pressures are strengthening amid high levels of capacity utilization, tightening labor markets and rising wages," ECB President Mario Draghi said this month.