Dollar Squeeze Coming? Watch Asia's Politicians
(Bloomberg Opinion) -- The dollar's best quarterly run of Donald Trump's presidency is no doubt causing discomfort in Asia. But while the greenback is getting expensive, it's not yet scarce. To gauge the risk of a shortage, you have to read the political tea leaves from Kuala Lumpur to New Delhi and Beijing.
Suppose you're an Indian bank. A customer wants $100 for three months. If you don't have the dollars, you can always manufacture them by borrowing 6,900 rupees from the local money market for three months, paying interest of 110 rupees and buying $100 in the spot market at around 69 rupees apiece. You then contract to swap them back into rupees in three months at a rate of 69.5.
After paying off the rupee loan, and assuming your customer pays you the dollar Libor rate, you end up with a small profit. Had there been a dollar shortage — like during the 2013 taper tantrum — the whole process would have netted a big loss. You would have been disinclined to give customers dollar loans and they would have complained of a squeeze.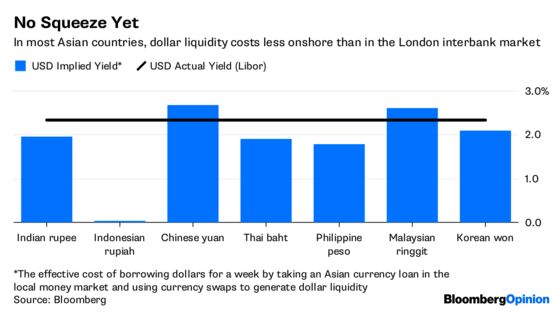 The rupee fell on Thursday to an all-time low of 69.0925; the 5 percent-plus decline in the Chinese currency in the June quarter has prompted analysts to speculate that Beijing is using the yuan as a weapon to boost export competitiveness in a tit-for-tat measure amid Trump's trade war. Indonesia's central bank meets Friday, and investors are expecting a third interest-rate increase since May to ward off a collapse of the rupiah. 
Yet... there's no dollar shortage. Wait, however, for politicians to jump into the fray. They may have no other option. Narendra Modi, the Indian prime minister, made such a huge point of a weak rupee in the run-up to the 2014 election (in which he won power) that he can't afford to give his opponents the same ammunition ahead of the 2019 polls.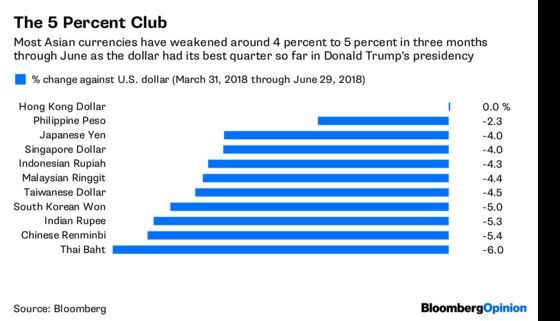 Mahathir Mohamad, the newly installed Malaysian prime minister, says the fair value of the ringgit is 3.8 to the dollar. That level, which would imply a 6 percent appreciation in the local currency, is also the one at which Mahathir pegged the ringgit in 1998 and imposed capital controls. He says the currency will naturally gravitate to 3.8 this time around. But he hasn't spelled out what that natural process would be. Meanwhile, China's President Xi Jinping, trying to buttress his image as a benign globalizer in the age of Trump, won't want too weak a yuan, for that could renew worldwide howls about the nation's mercantilist, beggar-thy-neighbor policies.
Asian central banks are raising rates to defend currencies, but reluctantly. Growth isn't particularly strong anywhere, and Trump's trade policies are fueling concerns about weakness ahead. Doing nothing, though, isn't an option. The dollar has an outsize influence on inflation for India, Indonesia and the Philippines, according to Goldman Sachs Group Inc.
So should the central banks sell dollars instead? If they do and are unsuccessful, speculators will use depleting reserves as a signal to bet against their currencies with gusto. Thailand and Malaysia witnessed such pressures in 1998. China experienced it more recently. Even with a war chest of more than $3 trillion, there was nervousness in 2015 and 2016 about whether Beijing could defend the yuan against capital outflows. 
The flip side won't be any less painful. If Asian central banks succeed in defending their currencies, the market may judge exchange rates to be artificially overvalued. And that's when the expensive dollar could turn into a shortage; the grease that oils the working-capital engine of Asia Inc. would dry up. 
With India and Indonesia back in election mode, and Malaysia's new government under pressure to contain a rising cost of living — a key issue in the last polls — the best hope for the region is that the U.S. Federal Reserve will slow its tightening campaign. Otherwise, the 2013 dollar squeeze could be back.
While paying attention to technocrats, don't take your eyes off Asia's politicians.