Emerging Markets End Bleak Quarter With Big Rally
(Bloomberg) -- Emerging markets joined a rebound in riskier assets after a selloff that drove stocks and currencies to their worst quarter since September 2015 amid escalating tensions between Washington and Beijing.
Eighteen of 24 currencies tracked by Bloomberg rallied and a measure of shares trimmed its weekly drop to 1.8 percent, moving away from entering a bear market. The Argentine peso led global declines, hitting an all-time low amid skepticism about the government's ability to implement economic adjustments. Stock gauges in South Africa, Hungary and Indonesia led gains, while the offshore yuan halted an 11-day drop that was triggered by uncertainty about the intentions of Chinese policy makers.
"There's a big difference between the fear of trade wars and the realization," Willem Buiter, a special economic adviser at Citigroup, said in an interview with Bloomberg Television's Tom Keene and Francine Lacqua.
Traders are becoming a bit more sanguine at the end of a miserable quarter underscored by trade tensions and geopolitical threats that drove market valuations lower. A report on President Donald Trump's desire to leave the WTO, which Treasury Secretary Steven Mnuchin played down as an "exaggeration," came as little surprise to some money managers given his protectionist rhetoric. Meanwhile, optimism about the European Union's united front and a respite in the yuan's decline eased anxiety.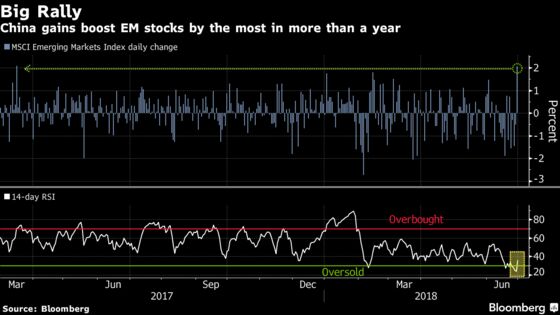 "As a long-term investor, I would actually be overweight on international equities to U.S. equities," said David Kelly, JPMorgan Asset Management's chief global strategist. "When it comes to Europe and emerging markets in general, they have better long-term growth prospects than the U.S."
HIGHLIGHTS:
MSCI Emerging Markets Index rallied 2 percent to 1,068.50
Stock measure down 16 percent from peak in January
CBOE Emerging Markets ETF Volatility Index fell 4.2 percent
MSCI Emerging Markets Currency Index halted 4-day slide
Risk premium on EM sovereigns climbed 1bp to 370bps: JPMorgan indexes
Emerging Markets Losing Most to U.S. High Yield Since '13: Chart
History Shows Emerging-Stock Slump Is Nothing to Fret About
Emerging-Market Carnage Sidesteps India as Locals Buy Stocks
Emerging-Market Central Banks Are Losing Battle Against Traders
Morgan Stanley Fires Off Commodity Warning as Risks Stack Up
Sunday: Mexico presidential election; Ministers from 16 Asia-Pacific countries meet to negotiate the Regional Comprehensive Economic Partnership in Tokyo
Monday: Brazil Markit PMI manufacturing, Mexico Markit PMI manufacturing, Argentina government tax revenue, Turkey PMI, Russia GDP, Poland CPI, South Africa manufacturing PMI, India Nikkei manufacturing PMI
ARGENTINA:

Merval Index sank 2.7 percent to 26,069.97
Peso sank 2.5 percent to 28.85 per dollar
"There's a general feeling that the stability achieved is short-term and that a nominal anchor isn't present," said Alejo Costa, the chief Argentina strategist at BTG Pactual in Buenos Aires
Shares of Pampa Energia SA have plummeted so much that they are now "too cheap to ignore," according to Morgan Stanley
Credit Suisse lowered 2018 GDP forecast to 1.1% and 2019 estimate to 1.5%
The Currency Cup: Cry for Argentina Amid Dollar Strength
Five Ingredients of an Explosive Combo That Threatens Argentina

BRAZIL:

Ibovespa climbed 1.1 percent to 72,553.56
Real fell 0.3 percent to 3.87 per dollar
10-year local-bond yield dipped 22 basis points to 11.68 percent
Stocks are at risk of posting the worst quarter since the 2008 global financial crisis
BMI Research cut 2018 GDP forecast 1.6% from 2.5% due to commerce disruptions in May from truckers' strike and weakened outlook for fixed investment
Itau is bullish on Brazilian food retailers, citing reflation and rates

MEXICO:

Mexbol index surged 1.3 percent to 47,637.59, highest in almost two months
Peso sank 0.7 percent to 19.8582 per dollar
10-year local-bond yield gained one basis point to 7.614 percent
Peso is likely to endure significant swings in the immediate aftermath of the presidential election Sunday, but should end July little changed from where it began, according to options traders
Largest ETF tracking Mexican stocks headed for its best month since January
Trader's Guide to AMLO's Mexico: Buy the Dips and Hold Tight
Mexico's Likely President Won't Be Populist: Jonathan Bernstein
RUSSIA:

MOEX Russia Index gained 2.0 percent to 2,295.95
Ruble fell 0.1 percent to 62.84 per dollar
10-year local-bond yield declined four basis points to 7.7 percent
Central bank said economy now seen expanding 1.8%-2.2% y/y in 2Q after official data were revised
Gazprom CEO Alexey Miller said U.S. LNG supplies to Europe "will never catch up with and will never surpass" Russian gas exports to the region

SOUTH AFRICA:

FTSE/JSE Africa All Share Index surged 3.5 percent to 51,516.06
Rand advanced 0.4 percent to 13.7162 per dollar
Country recorded a third straight monthly surplus on its trade balance in May as exports of vegetables, vehicles and chemicals climbed
"The rand is taking the biggest bashing among emerging markets currencies due to poor economic growth, unfavorable financing needs and wage talks at Eskom," said Isaah Mhlanga, an analyst at Rand Merchant Bank in Johannesburg
This Is Why South African Rand Bore Brunt of EM Sell-Off: Chart
South African Banks Put Brakes on Lending as Economy Shrinks

TURKEY:

Borsa Istanbul 100 Index increased 0.3 percent to 96,520.06
Lira fell 0.2 percent to 4.5925 per dollar
Nation's 2Q GDP growth expected at near 6 percent, according to Cemil Ertem, senior adviser to President Recep Tayyip Erdogan

Click for market news on POLAND and HUNGARY
CHINA:

Shanghai Composite Index surged 2.2 percent to 2,847.42
Offshore yuan little changed at 6.6343 per dollar
Central bank said it will keep economic development steady and stabilize market expectations, and reiterated a more cautious tone on debt containment
Treasury Sec. Steven Mnuchin said U.S. not in trade war with China
Most of the 18 traders and analysts surveyed by Bloomberg say policy makers will act to slow the currency's slide once it gets near 6.7 per dollar in China's onshore market
Fixing suggests more gradual yuan depreciation is acceptable and central bank is comfortable with the weakness because it's still up versus trade-weighted basket this year, said Oversea-Chinese Banking Corp. economist Tommy Xie in Singapore
Traders Watching China USD Bond Demand Have Reason for Gloom

INDIA:

Sensex Index surged 1.1 percent to 35,423.48, biggest jump in more than four weeks
Rupee rose 0.5 percent to 68.47 per dollar, biggest increase in four weeks
Economic Affairs Secretary Subhash Chandra Garg said nation has "firepower" to deal with the rupee's decline
Country is "somewhat immune" from a trade war relative to other developing markets and the rest of the world, said Sam Finkelstein, global head of EM for Goldman Sachs' asset-management unit in London

Click for more on markets in ASIA