U.S. First-Quarter GDP Growth Revised Down to 2% on Services
(Bloomberg) -- The U.S. economy expanded in the first quarter at a slower pace than previously estimated, reflecting downward revisions to spending on services and to inventory investment, according to Commerce Department data released Thursday.
Highlights of First-Quarter GDP (Third Estimate)
Gross domestic product increased at a 2% annualized rate (est. 2.2%), revised from previous est. of 2.2%
Consumer spending, biggest part of the economy, rose 0.9% (est. 1.0%), revised from 1%
Spending on services grew 1.5% (prev. est. 1.8%), while inventories and net exports subtracted from GDP (prev. reported as making small contributions)
Investment in intellectual property jumped at an upwardly revised 13.2% pace, most since 3Q 1999
Corporate pretax profits rose 6.8% y/y and 1.8% q/q
The smaller gain in first-quarter services spending primarily reflected fewer outlays by non-profits for health care. The downward revision to inventories was attributable to retail stockpiles, while annual updates to government trade data showed fewer exports and more imports during the quarter, according to Commerce.
A report Wednesday on the May merchandise trade deficit showed the narrowest gap in nine months, driven by a boost in exports. As a result, several economists revised their second-quarter tracking estimates for second-quarter growth. At the same time, there's a risk that U.S. tariffs could have a modest impact on future growth.
The economy has shown clear signs of accelerating from the first-quarter slowdown in GDP, which measures the value of all goods and services produced in the U.S. The first quarter is also typically influenced by seasonal quirks.
The Federal Reserve Bank of Atlanta's GDPNow tracking estimate for second-quarter growth was almost 4.5 percent as of Wednesday, while the median forecast in a Bloomberg survey of economists called for a 3.4 percent pace.
Notably, consumer spending has shown signs of awakening from a winter slumber as higher take-home pay from lower taxes and gradually rising wages in a robust labor market bolster Americans' financial positions.
A separate report Thursday showed that jobless claims rose in the week ended June 23 for the first time in five weeks. Applications increased by 9,000 to 227,000, a level that remains consistent with a tight labor environment.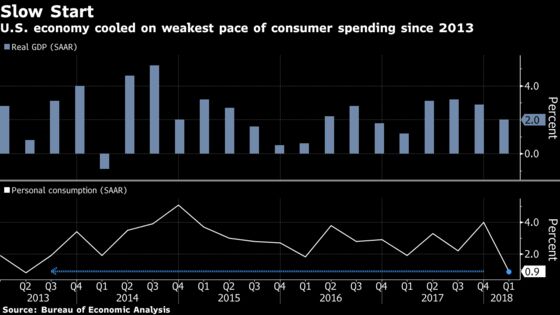 Nonresidential fixed investment -- which includes spending on equipment, structures and intellectual property -- increased an annualized 10.4 percent, the most since 3Q 2014 and revised from 9.2 percent rise
Spending on business equipment rose 5.8 percent, revised from 5.5 percent gain
Net exports subtracted 0.04 percentage point from GDP growth, revised from an 0.08 percentage point contribution
Inventories subtracted 0.01 point, compared with a previously reported 0.13-point lift
Residential investment fell at a 1.1 percent rate, revised from 2 percent decline
Final sales to domestic purchasers, which strip out trade and inventories -- the two most volatile components of the GDP calculation -- advanced 2 percent, revised from 1.9 percent
Government spending increased at a 1.3 percent rate, revised from a 1.1 percent gain
Real disposable personal income rose at 3.6 percent pace, revised from 3.3 percent gain
GDP report is the final of three estimates for the quarter before annual revisions in July
Gross domestic income, adjusted for inflation, increased 3.6 percent in the first quarter after climbing 1 percent in the fourth quarter