It's All Going Wrong for China Developers as Bonds Sink
(Bloomberg) -- The Chinese property industry's bad year keeps getting worse, sending bonds of some developers to record lows and triggering fresh concerns about a major pillar of the world's second-largest economy.
Tighter financing constraints, a state campaign to rein in real estate prices and a tumbling yuan are battering the sector just as it faces an unprecedented wall of maturing offshore debt.
The pressure has intensified this week amid news of additional government measures to curb real estate speculation and restrict developers' international bond issuance. While Chinese policy makers are trying to introduce some much-needed financial discipline into one of the country's most indebted industries, the worry is that defaults will jump and economic growth will take a hit. Real estate accounts for about 20 percent of China's gross domestic product, when both direct and indirect contributions are considered, according to Bloomberg Economics.
"The credit pressure is certainly mounting on developers," said Alan Jin, a property analyst at Mizuho Securities Asia in Hong Kong. "It's like they're walking on a tightrope."
An index of the leading developers' shares is down 9 percent this week even after swinging to a gain on Friday. Bonds of Country Garden Holdings Co. and China Evergrande Group fell to record lows on Thursday. The industry's troubles have been compounded by a Chinese trade war with the U.S., which has rippled across markets.
"Private developers will face the toughest ever repayment pressure in the third quarter," said Zhang Hongwei, a research director at property consulting firm Tospur. "Builders will make big cuts to prices in exchange for cash income."
These five charts show how strains on the industry are intensifying.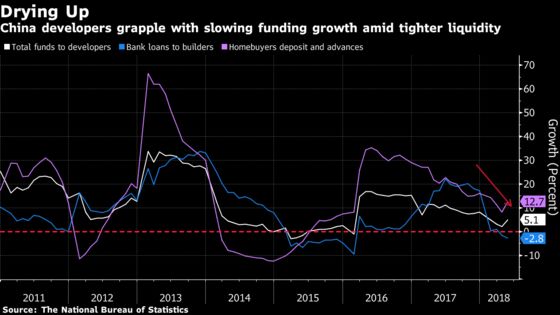 As the government presses on with its deleveraging campaign, a broad gauge of financing for developers -- including loans, bonds and proceeds from home sales -- has been growing at the slowest pace since the start of 2016. Loans from banks have dipped.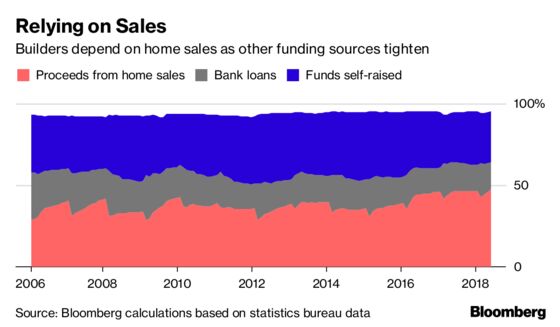 In May, the contribution to developers' funding from home sales -- including down payments and mortgages -- climbed to the highest since data became available in 2006, according to Bloomberg calculations based on statistics bureau figures. That leaves firms more exposed than ever to market swings and the whims of local officials, who can cap apartment prices when issuing pre-sales licences for projects.
"Funding is getting tighter in nearly every aspect," Mizuho's Jin said.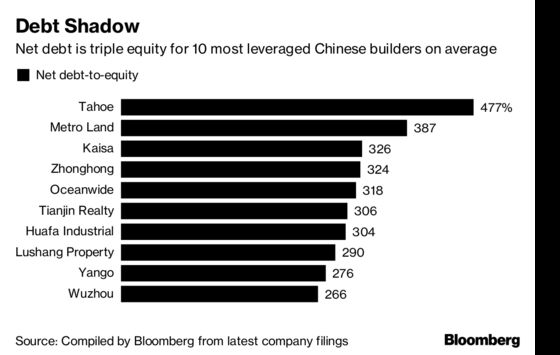 Debt loads amplify the risks. For the most leveraged listed developers, net debt-to-equity ratios are as high as 477 percent, according to data compiled by Bloomberg.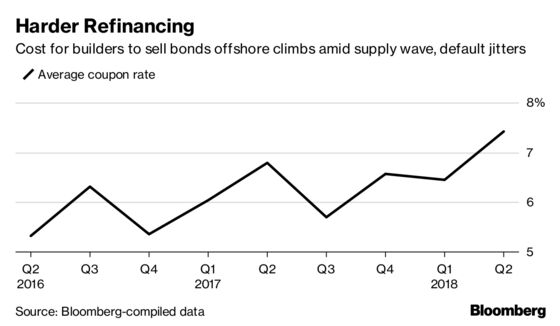 Developers are paying more for money raised in offshore bond sales -- and also now face extra restrictions on how they use the cash. The average coupon for new offshore bonds rose 209 basis points in the second quarter from two years earlier. On Wednesday, the National Development and Reform Commission said the proceeds of the bond sales should go to debt repayments, not domestic property projects or working capital.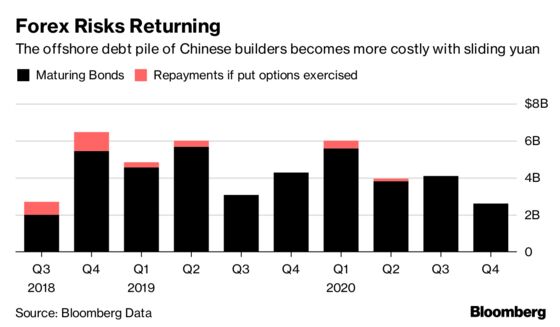 Developers' dollar-denominated bonds are also getting more expensive because of a falling yuan. Evergrande and Country Garden are the most exposed by value, with at least 44 percent of their debt issued in the dollar, according to data compiled by Bloomberg. More than 90 percent of Kaisa Group Holdings' bonds are denominated in the greenback.