Hedge Fund Warns of Further Pain for Ringgit, Rupiah Bonds
(Bloomberg) -- Emerging-market bonds are staring at more losses, with Malaysia and Indonesia among the markets that are most at risk, according to the world's largest traded hedge fund.
For Man GLG, the stress convulsing developing-nation assets is set to continue as global stimulus dries up, driving some yields up by more than 100 basis points. Ringgit and rupiah bonds are particularly vulnerable due to the debt burdens of their governments, said Guillermo Osses, head of emerging-market debt strategies at the fund, a unit of Man Group Plc which oversees $113 billion.
"We don't think Malaysia's credit default swaps compensate fully for the potential risks associated to the balance sheet," New York-based Osses said in an interview. Indonesia is less likely to see "a significant deterioration in assets to the extent that could happen in Malaysia, but it's still a market under pressure."
After a two-year binge, funds are retreating from developing-nation assets as a stronger dollar and trade frictions sap appetite. As tensions between the U.S. and China worsen, the chorus of gloom is growing and analysts warn that the investors still have a lot of room to cut exposure to emerging markets.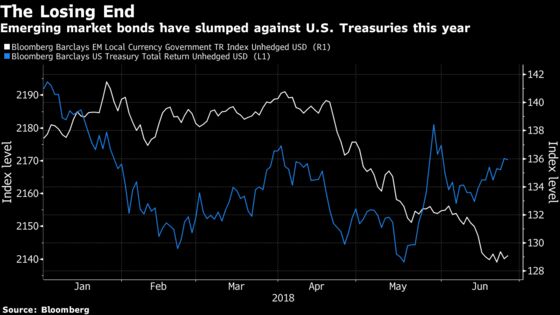 A shrinking yield differential between the U.S. and emerging markets has led to capital flight. The Bloomberg Barclays U.S. Treasury Index gained 0.8 percent in the past month, compared with a 3 percent drop in a similar gauge tracking local-currency emerging-market sovereign debt.
Malaysian bonds are at risk as the debt of troubled state fund 1MDB add to the government's liabilities, Osses said. Memories of the central bank's curb on currency trading in late 2016 also weighs on sentiment, even though policy makers have taken steps to address concerns.
"The country in the last couple of years has in fact implemented capital controls, and they might do that again," said Osses. "In our view, this is a place to avoid because you don't get paid for the risk you're taking on."
Man isn't alone in its doubts. Overseas ownership of Malaysian sovereign securities dipped to a nine-month low in May.
And while intervention by Bank Indonesia had helped alleviate pressure on Indonesian assets, its bonds will remain under pressure, Osses said.
The benchmark 10-year bond yield has surged more than 150 basis points this year to reach 7.84 percent, the highest since January 2017. The rupiah extended losses and government debt declined ahead of a central bank meeting on Friday, where economists expect a third rate hike in six weeks.
"Risk assets were all quite supported from quantitative easing and our view has changed in the last three to six months," said Osses, who has almost three decades of investing experience. Yields in emerging markets need to "go up substantially and that will likely happen with further currency depreciation."
The company also deems Lebanon too risky due to the nation's current-account deficit, and is wary about Brazil as political hurdles will impede reforms needed to tackle the government's debt, Osses said. Still, some markets such as Argentina have fallen enough to become potentially attractive, he added.
"We have been extremely negative for most of the last six to nine months," said Osses. "But there are certain segments where because of how stressed asset valuations have become, we're starting to see potential opportunities."
Neuberger Berman Group LLC is similarly cautious, warning that markets may be unprepared for a material escalation in trade tensions. And as major central banks unwind their balance sheets, this may spur sizable outflows from economies which rely on external funding, the fund said.
"In the absence of these two risks, we think EM Asia fundamentals remain on a firm footing and should enable the markets to bounce back post the summer months," said Prashant Singh, Singapore-based senior portfolio manager for emerging markets debt at Neuberger, which oversees $299 billion globally.
Neuberger is underweight Thai bonds as strong economic growth and price pressures will probably prompt the central bank to move away from its accommodative stance, said Singh.