German Inflation Slowed in June, But Still Above 2% Level
(Bloomberg) -- German inflation slowed slightly in June, as higher fuel costs were offset by softer growth in services prices.
Consumer prices rose 2.1 percent from a year earlier, down from 2.2 percent in May, and in line with the median forecast in a survey of economists.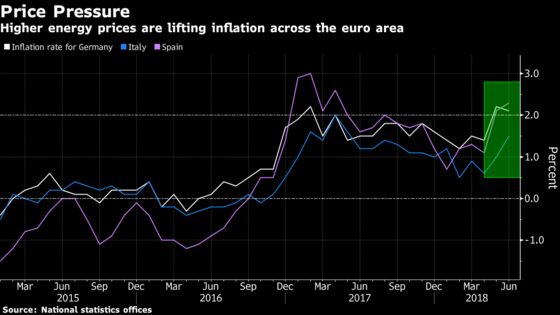 Higher energy prices are lifting inflation across the euro area. Italy's rate jumped to 1.5 percent in June from 1 percent in May, while Spain saw a gain to 2.3 percent, the fastest in more than a year.
Headline inflation in the 19-nation currency zone is forecast to have accelerated to 2 percent in June from 1.9 percent in May. However, the underlying rate -- excluding energy and food -- is expected to have slowed to 1 percent from 1.1 percent. The data will be released at 11 a.m. Luxembourg time on Friday.
Even with the region's economy in a weak spot, and global trade tensions threatening the outlook, the European Central Bank has expressed confidence that inflation is converging sustainably toward the its goal of just under 2 percent.
"Over the course of the past year, that convergence path has held firm, and the timing of when we expect to attain our objective does not appear to have receded further into the future," ECB President Mario Draghi said this month.