Fed Hits Inflation Goal Only to Find Expectations Spoiling Party
(Bloomberg) -- Inflation is poised to breach the Federal Reserve's 2 percent inflation target. The trouble is, lagging price expectations could well pull it back down.
The central bank's preferred measure of prices probably climbed 2.2 percent in the year to May following 2 percent gains in the previous two months, a government report is forecast to show Friday. While that would be the strongest three-month stretch since early 2012, Fed policy makers are far from ready to declare mission accomplished.
That's partly because inflation expectations remain subdued and, if anything "have edged lower in recent years," in the words of Fed Chairman Jerome Powell. "We haven't really seen inflation expectations get up to 2 percent yet," he said last week at a forum in Portugal.
That matters a lot. If consumers think inflation will stay low, they will resist paying up for goods and services. Companies, in turn, will avoid handing out wage increases and will shy away from raising prices out of fear of losing business. It's a vicious circle that can keep inflation depressed.
Powell said that's the sort of risk policy makers have been worried about for years as price gains consistently fell short of their goal. And central-bank watchers say that's allowing the Federal Open Market Committee to stick with its strategy of lifting interest rates gradually, even as it sees inflation topping its target and already-low unemployment dropping further.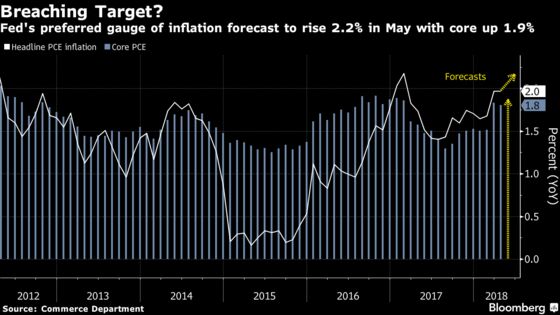 The fall in inflation expectations "gives them leeway to be cautious about raising rates to deal with a tightening labor market," said former Fed official Peter Hooper, who's now chief economist at Deutsche Bank AG in New York. "They don't have to become aggressive."
Powell told reporters on June 13, after the Fed raised interest rates a quarter percentage point, that rising oil prices were likely to push inflation "somewhat above 2 percent" for a while but he added that such a "transitory development" would have little, if any, consequences for the coming years.
Core inflation, which excludes volatile energy and food costs, is projected to clock in at 1.9 percent in May, up from 1.8 percent in April, according to the median forecast of economists surveyed by Bloomberg ahead of the Commerce Department report. That index last topped 2 percent in 2012.
In standard economic models such as those used by the Fed, expectations are the No. 1 determinant of future inflation, said Hooper, who spent 26 years at the central bank. They overwhelm other forces in the longer run, including inflationary effects typically associated with changes in employment and wages, a relationship known as the Phillips Curve.
And those expectations have been lagging. One closely-watched measure, based on the University of Michigan's consumer sentiment survey, has fallen from its post-recession peak and shows no clear signs of reviving.
Investors also see inflation staying below pre-recession levels even after nine years of economic expansion, according to trading in the Treasury Inflation Protected Securities market.
Former Fed staffer Alan Detmeister said the expectations data collectively suggest a long-run inflation path of around 1.75 percent, below the Fed's target.
Yet he cautioned against reading too much into that given that some measures of the price outlook, such as the New York Fed's survey of consumers, have been drifting higher. Detmeister, who formerly headed the Fed's research and analysis of prices and wages, is now an economist with UBS Securities LLC in New York.
Fed Governor Lael Brainard has said that households and firms may have lowered their inflation outlooks after years in which price gains fell shy of 2 percent.
In that case, a "mild, temporary overshoot" of the Fed's goal might be useful in nudging the underlying price trend back up, she said in a May 31 speech in New York.
Fed policy makers see inflation of 2.1 percent in 2018, 2019 and 2020, a smidgen above their objective, according to their median forecasts released on June 13.
Unemployment, in contrast, is seen coming in well below the 4.5 percent level they consider sustainable in the longer-run without sparking inflation. It's projected to fall to 3.5 percent in late 2019, from 3.8 percent in May.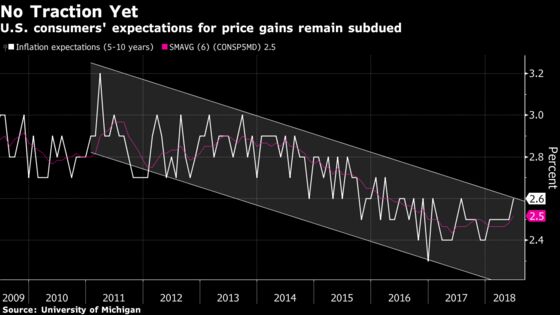 "They've been deathly afraid of inflation expectations de-anchoring to the downside," said Joseph Song, senior U.S. economist at Bank of America Merrill Lynch in New York. By tolerating price rises a bit above their goal, they're "hoping to re-anchor expectations at a level they're more comfortable with."