Latvian Central Bank Governor Ilmars Rimsevics to Face Prosecution
(Bloomberg) -- Ilmars Rimsevics, a member of the European Central Bank's Governing Council, will face prosecution for bribery in Latvia, further tainting the nation's reputation in a year that's already brought U.S. money-laundering allegations and the closure of its No. 3 bank.
Prosecutors announced that Rimsevics, Latvia's central bank governor, has been charged following an anti-corruption probe that saw him briefly detained in February. He could receive as long as 11 years in prison. On Friday, they said he had sought a bribe of up to 500,000 euros ($581,450). It's another blow for the tiny euro-area country that's been accused of helping funnel criminal funds into the European Union, and even of breaching North Korea sanctions.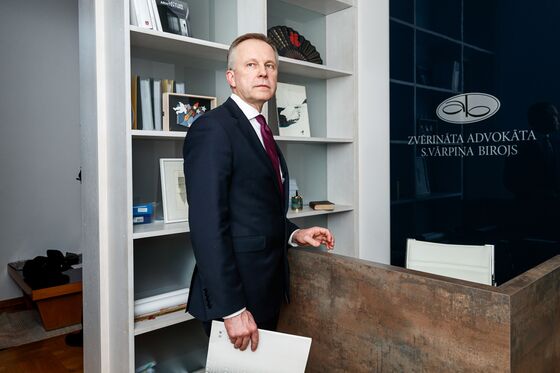 The glut of banking scandals has prompted Latvia to overhaul its finance sector, which had acted as a regional hub for cash from the former Soviet Union since the collapse of communism. Rimsevics, as governor and before that as deputy governor, has overseen the industry since 1992. His legal woes have deprived him of his seat at ECB policy-making meetings and he's banned from travel.
"It doesn't look good for Latvia and it also doesn't look good for the ECB," Guntram Wolff, director of Bruegel, a Brussels-based think tank, said by phone. "The fact the ECB hasn't itself seen any of this coming is very uncomfortable for the people in Frankfurt."
Speaking in an interview with Latvian TV, Rimsevics denied all wrongdoing. Some of the alleged events took place five to eight years ago, he said. His lawyer was not available for comment.
Rimsevics, who refuses to step down, is accused of seeking a bribe in relation to a small lender that's since been closed over money laundering, Prosecutor Viorika Jirgena told reporters in Riga on Friday. The governor allegedly received 250,000 euros of the asked amount, the prosecutor said without taking questions at the briefing.
The case has unearthed claims including death threats, Russian meddling and suggestions of score-settling among Latvia's elite.
The 53-year-old official now cuts an isolated figure in his Baltic homeland, with the president, government and parliament all urging him to quit before his terms ends in 2019. Due to laws on central-bank independence, it's proving difficult to force him out.
The bribery case has strained ties between Latvia and the ECB, which has challenged some of the domestic restrictions on Rimsevics. Other ECB policy makers also have run into legal difficulties in the past. An ECB spokesman declined to comment.
Read more:

Machine-Gun Murder Reveals Perils of Latvia Banking Clean-Up
Latvia, where foreign deposits once eclipsed local savings, is dismantling the so-called non-resident industry and banning the use of shell companies. The U.S., whose report of wide-spread money-laundering violations triggered the demise of ABLV Bank AS, says the authorities must still do more to cleanse the sector.