Indian Rupee May Fall Past 71 a Dollar, DBS Says
(Bloomberg) -- The Indian rupee is set to weaken beyond 71 per dollar by June next year as the country's current-account deficit widens on rising oil prices, said Taimur Baig, chief economist at DBS Group Holdings Ltd.
Rising U.S. interest rates, a stronger dollar and fears of a trade war will spur flows into traditional safe-haven liquid currencies, Baig said in an interview. External funding pressures due to slowing capital flows will also keep the rupee under pressure, he added.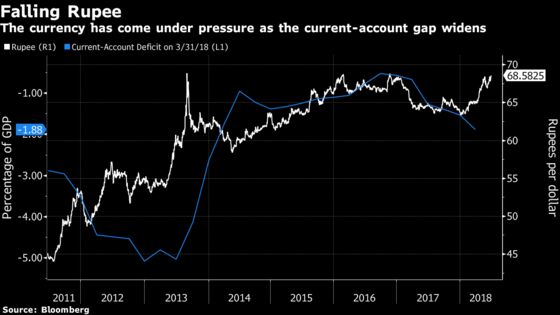 The rupee, the worst performing currency in Asia this year, touched a record low at 69.0925 per dollar on Thursday as gains in oil prices threatened to stoke inflation and worsen the nation's domestic and external finances. A hardening in global yields have spurred global funds to pull out more than $6.5 billion from Indian stocks and bonds this year.
Every rupee change in exchange rate against U.S. dollar impacts India's crude oil import bill by 108.8 billion rupees ($1.58 billion), according to the oil ministry. The nation's oil import bill in the current financial year through March 31 is estimated at $108.79 billion, based on an average exchange rate of 65 rupees and oil price of $65 a barrel.
"We expect oil prices to go up and since the government will not pass on most of the rise to consumers since it can threaten demand, the external accounts have to suffer," he said, adding DBS sees current-account gap widening past 2 percent of GDP and the rupee weakening beyond 71 per dollar by next June.
The prediction is more bearish than the 67.52 median forecast in a Bloomberg survey. Last week, Barclays Plc became the most bearish forecaster on the Indian rupee, predicting the currency will weaken more than it did during the taper tantrum five years ago. It expects the rupee to decline to 72 per dollar by year end.