Consumers Drag Euro-Area Confidence Lower for a Sixth Month
(Bloomberg) -- Consumers in the euro area are getting worried about the outlook for the economy amid escalating trade tensions and rising oil prices.
A European Commission index of household sentiment fell to an eight-month low in June, and their optimism in the economy dropped to the weakest since May 2017. A broader measure of confidence that includes businesses declined a sixth straight month, though it remains at a relatively elevated level.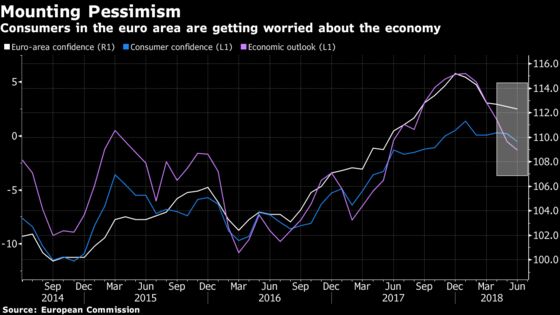 The survey comes in the wake of bond-market ructions related to the new government in Italy and the mounting threat of a trade war that could impede global growth. There's also tension at the heart of Europe, with German Chancellor Angela Merkel fighting a rising mutiny over immigration within her own government.
The European Central Bank has highlighted the threats from trade tensions, and on Thursday it said that "risks to global activity from a widespread rise in protectionism could be significant." Just a day earlier, Bank of England Governor Mark Carney said recent events were "concerning" and a full-blown trade war would "sap" global strength.
There's also the risk that higher oil prices will crimp spending. In Spain, the central bank has warned that consumers are faltering and retail sales posted their first year-on-year decline since 2014.
| Data (June unless stated) | Actual | Survey  | Prior |
| --- | --- | --- | --- |
| Euro-area economic confidence | 112.3 | 112 | 112.5 |
| Euro-area consumer confidence  | -0.5 | -- | 0.2 |
| Euro-area business climate | 1.39 | 1.40 | 1.44 |
| Italian inflation  | 1.5% | 1.3% | 1% |
| Spanish inflation | 2.3% | 2.3% | 2.1% |
| Spanish retail sales (May y/y) | -0.3% | 0.7% | 0.3% |
European stocks have suffered since the escalation of tit-for-tat measures between the U.S. and Europe. President Donald Trump threatened a 20 percent tariff on cars imported from the EU unless the bloc removes import duties and other barriers to U.S. goods.
The Stoxx 600 Index has fallen about 3.5 percent in the past two weeks, with automakers including BMW AG and Volkswagen AG among the worst hit.