Yuan Slide Risks Reviving Trump's Attacks on China's Currency
(Bloomberg) -- The yuan's fastest fall since its 2015 devaluation is adding a new dimension to already frayed tensions between the world's two biggest economies.
President Donald Trump -- who dubbed China the "grand champions" of currency manipulation early in his presidency -- is now being confronted with a 3 percent, two-week slide in the yuan that stands to make Chinese imports cheaper for American buyers and U.S. exports to China pricier. It's a decent slump for a managed currency, and is fueling the anxiety around Chinese assets, with stocks in a bear market and corporate bond defaults on the rise.
The yuan's depreciation -- even if it is at the hands of market players and not directed by government policy -- risks reviving old accusations right as limits on foreign investment in American companies are being considered and tariffs are set to be imposed on $34 billion in Chinese goods. While Trump has accused China of unfair currency practices, his Treasury Department -- like those before his presidency -- has repeatedly stopped short of officially labeling the nation a manipulator, a step that would likely provoke retaliation from Beijing.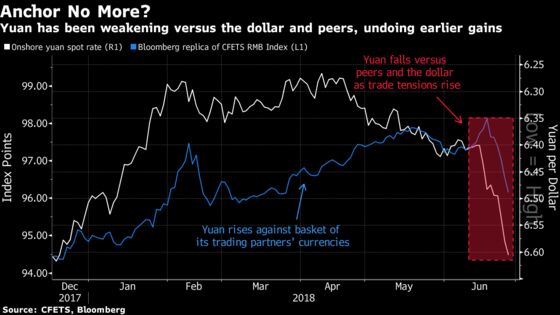 If China "allows the yuan to soften further, the U.S. administration would see this as a negative response and it would probably act as a catalyst for further tensions," said Colin Harte, a senior portfolio manager at BNP Paribas Asset Management in London. If China was seen as "aggressively selling" the yuan without clear evidence of a slowdown, the U.S. would have grounds to argue it is being done for trade purposes, he added.
For more on China's currency and trade tensions: 
White House spokeswoman Lindsay Walters didn't immediately respond to a request for comment.
China's currency seemed to find a floor at 6.6 per dollar in trading Wednesday after its rapid descent sparked fears that the government was engaged in a deliberate depreciation. At least one major Chinese bank sold the dollar in the onshore market to keep the yuan from weakening beyond 6.6, according to two traders.
The currency has posted the biggest loss among major currencies after South Korea's won in the past two weeks, as weak economic data, the slumping stock market and escalating trade tensions weighed on its outlook.
Harsh attacks on China helped propel Trump to the presidency, including vows to label the country a manipulator on his first day in office -- but that didn't happen.
In a marked turnaround, Treasury Secretary Steven Mnuchin even praised yuan strength in May 2017, saying China's use of foreign-currency reserves to support the currency benefits American workers.
Then in April, Trump accused China and Russia of devaluing their currencies, breaking from his own Treasury chief's view that no major trading partners are currency manipulators. The Treasury's next semi-annual report on foreign exchange is due in October.
More recent attacks have been focused on the trade gap with China. The U.S. imported $505 billion of goods from China last year and exported about $130 billion, leaving a 2017 trade deficit of $376 billion, according to U.S. government figures.
Last week, a scathing report released by the White House accused China of hijacking intellectual property and pursuing industrial policies that threaten U.S. economic and national security. It claimed China's spectacular economic growth "has been achieved in significant part through aggressive acts, policies and practices that fall outside of global norms and rules."