Japan's Retail Sales Drop by Most in Nearly Two Years in May
(Bloomberg) -- Japanese retail sales fell in May by the most in nearly two years, pointing to weaker consumption that could restrain any rebound in the economy following a contraction in the first quarter.
Higlights
Retail sales fell 1.7 percent in May (forecast -0.8 percent) from April, when they rose a revised 1.3 percent.
Sales increased 0.6 percent from a year earlier (forecast +1.4 percent).
Sales at department stores and supermarkets fell 2 percent from the previous year (forecast -1 percent).
Sales of automobiles fell 2.8 percent from a year earlier, while clothing and apparel sales dropped 4.1 percent on year. 
Weak retail sales, despite a string of national holidays early in the month, underscore that strong consumption has yet to take hold in Japan. That's holding back the export-dependent economy. After a 2 percent surge in March, wage gains fell back to trend in April with a moderate 0.8 percent increase. That means consumers don't have much extra free cash for discretionary spending.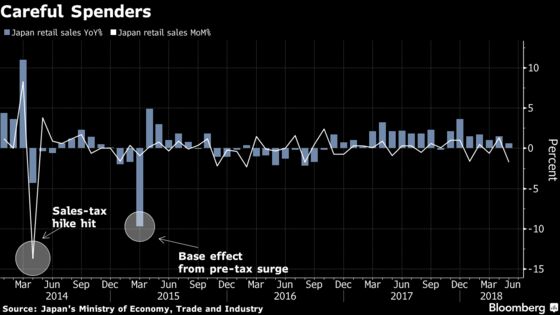 "The data were rather weak, but they look normal to us because we have a bearish view on consumer spending," said Masaki Kuwahara, senior economist at Nomura Securities Co. "Simply put, wage gains are limited and consumers aren't expecting their income to grow in the future."