China's Yuan Tumble Blindsides Traders, Spurs Worry Over Impact
(Bloomberg) -- Global investors might shrug at a bear market in Chinese domestic stocks -- largely walled off from the rest of the world. But a tumble in the yuan that's blindsided currency forecasters is now triggering warnings of potential contagion.
Greg McKenna, a three-decade foreign-exchange market veteran, said "I don't talk about the yuan much" in morning notes to clients. But that wasn't the case Wednesday. "Folks you have to watch emerging markets and the Chinese yuan," he wrote.
At one point Wednesday the yuan was down more than 0.5 percent against the dollar for a third straight day, an unusually sharp move for the managed currency. Such a magnitude hadn't been seen in a short stretch since China's August 2015 devaluation, when the currency slid 2.8 percent over two days. It was at 6.5954 as of 4:00 p.m. in Shanghai.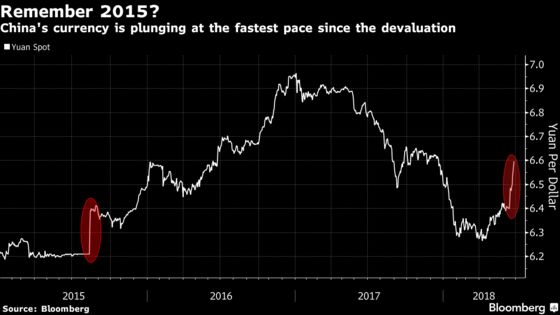 "I expect the yuan to head back toward 6.70 or 6.80," said McKenna, a former currency strategist with Australian banks who's now at AxiTrader in Sydney. "I wonder if that will spook developed markets in a way the fall in Chinese stocks hasn't? I think it might."
The yuan has tumbled about 3 percent in the past two weeks. While that's left it only at its weakest since December, the drop has coincided with an escalation in trade tensions with the U.S., spurring concern that China might embrace purposeful devaluation as a policy tool. Surging interest saw yuan options trading rise to the third-most traded globally on Tuesday. A more typical day would see it from seventh to tenth place; it was tops Wednesday in Asia.
The following are some views on where the yuan is heading.
"Investors are getting into a bit of a panic now," said Ken Peng, an investment strategist at Citi Private Bank in Hong Kong. "Policy makers might be allowing the market to push the yuan weaker, without doing it themselves, as the trade tensions with the U.S. worsen," and will be wary of burning foreign-exchange reserves "to little effect."
Even so, "in general, the authorities should still hope to stabilize the market to avoid outflows" of capital he said. "The drops in the yuan could accelerate as the currency sinks past 6.6 per dollar."
"The decline will have spillover effects on other yuan assets, such as stocks."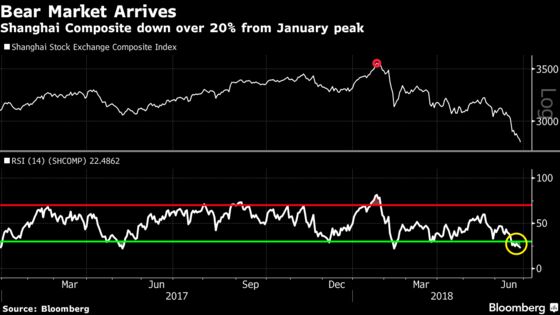 Stability seen in the gap between one-month and 12-month non-deliverable yuan forwards "suggests that the market is not expecting a significant, sustained yuan depreciation to occur," Morgan Stanley currency strategists led by Hans Redeker wrote in a note Wednesday. By contrast, in past episodes of yuan depreciation, the differential climbed, they said.
"Durable RMB weakness is not our base case, but should any negotiations between China and the U.S. ahead of the imposition of import tariffs on 6th July fail to show positive results, then China may have to re-think its strategy," the strategists wrote. RMB refers to renminbi, the official name of China's currency.
"Worries over corporate bond defaults are arguably the most dominant factor at this point," said Tai Hui, JPMorgan Asset Management Inc.'s chief market strategist for Asia Pacific in Hong Kong. "The prospects of higher dollar interest rates and subsequent dollar strength are raising concerns that companies who have been heavy dollar-debt issuers could face challenges to service their debt, repay or refinance."
There are reasons for Chinese authorities to prevent sustained weakening in the yuan -- including promoting the currency as a rival to the dollar and its use in commerce with trading partners, said John Hardy, head of foreign-exchange strategy at Saxo Bank A/S.
"So I would be surprised, in other words, if the recent pace of weakening is sustained for much longer." Asked why he thought the yuan was weakening, he said it "could be domestic economic risks, and sending a warning -- or simply that the recent yuan appreciation (in basket terms) has proceeded far enough -- or all three."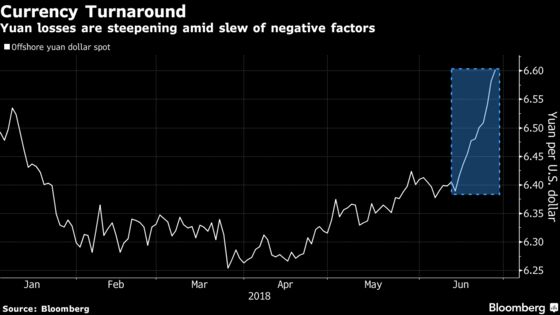 "There is much focus and some expectation in the market of the currency trade tool" being deployed, said Neil Jones, head of hedge-fund sales at Mizuho Bank Ltd. "But there is also a strong regard to sovereign divergence in play here. The Fed is raising and the PBOC cutting. I would suggest very strongly that rate differentials are playing a big part."
With the Chinese stock market also diverging in its performance relative to the U.S., "To me a weaker yuan seems logical regardless of a trade tool or no trade tool," Jones said.
Depreciating the yuan is one of the two most likely options for China to consider in response to any move by the U.S. to impose a 10 percent tariff hike on $200 billion or more of Chinese imports, said Alex Wolf, senior emerging markets economist in Hong Kong at Aberdeen Standard Investments.
"A 10 percent depreciation could offset the additional tariffs at a 10 percent rate, although not without significant risks, including exacerbating outflows," Wolf wrote in a note to clients Tuesday. "There are no costless options, but hopefully we don't reach that point."