Where Americans Made the Most Money Selling Their Homes in 2017
(Bloomberg) -- Americans selling homes in the nation's hottest market last year made enough to turn around and buy a place for cash -- and still have spare change for a Tesla.
Sellers in San Jose, California, made a median gain of 54 percent on the homes they bought nine years earlier, the greatest price appreciation of three dozen markets in a report out Tuesday by real estate data provider Zillow. That translates to a profit of nearly $300,000, comfortably ahead of the current median U.S. home price of $215,000.
The San Francisco metropolitan area was close behind, with sellers racking up a 46 percent increase over the prices they paid at the beginning of 2010. That gain works out to more than $220,000.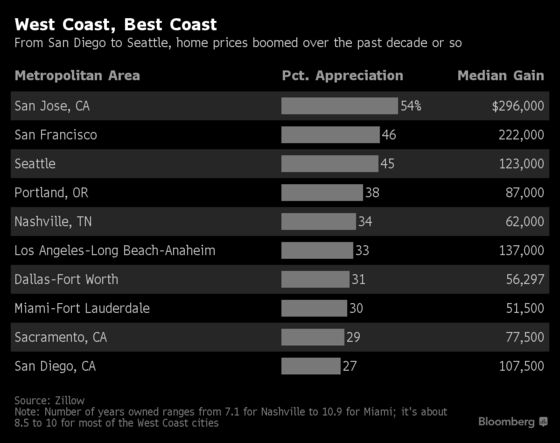 "A short supply of homes for sale has kept upward pressure" on prices, Zillow said in the report, noting that buyers are in a tough spot.
Sellers face their own challenges. Just over 70 percent last year were looking for a new home themselves, the report found. In about three-quarters of the metro areas Zillow studied -- notably New York, Baltimore, Washington and Chicago -- even robust gains from a sale weren't enough to put 20 percent down on a home in the area. In New York, where the typical seller owned his or her home for almost 11 years, the median gain of 15 percent, or $46,000, didn't come close to the typical down payment of $85,000.
For the U.S. as a whole, where sellers owned their homes for 8.4 years, they made a median profit of 21 percent, or $39,000, just missing the 20 percent down payment of $43,000.
Still, Zillow Senior Economist Aaron Terrazas noted, Americans in the nation's hottest markets "have been able to cash in when they sell their homes," wielding "an advantage over first-time buyers who may be coming in with smaller down payments."