U.S. Trade Tensions Cast a Pall Over China's Tech IPO Bonanza
(Bloomberg) -- Morningside Ventures managing director Richard Liu's backers were livid when he asked them to double down on a then-unknown called Xiaomi Corp. The cheap smartphones maker demanded a billion-dollar valuation -- despite never having earned a penny in sales. But it took just a few hours to turn them around and Morningside's partners ended up investing close to $100 million in the business.
Years later, that stake could be worth as much as roughly $11 billion as Xiaomi speeds toward a hotly anticipated July coming-out party: one of the better returns in venture capital annals. Big numbers could soon become de rigeur with Xiaomi and all-in-one consumer app Meituan-Dianping leading a bonanza year for Chinese IPOs -- assuming the global economy doesn't go off the rails. Prominent startup investors interviewed by Bloomberg Television fear a trade war between China and the U.S. -- not to mention the surging cost of backing the country's bubbly businesses -- could end the party before it gets properly started.
"We're definitely worried about how this will specifically impact each sub-sector," Liu said. "The challenge is not history, it's what will be next."
U.S. efforts to contain China's economic and technological ascendancy will soon become reality when steep tariffs on $34 billion of Chinese goods take effect -- potentially swelling to $250 billion or more. Beijing has threatened to retaliate in kind. The prospect of an internecine trade war has already wiped a fifth off Chinese markets, pushing them into bear territory.
There's so far little discernible impact on investment flows. Just six months into 2018, $8.9 billion worth of Chinese tech-focused private equity funding has been raised -- more than three-quarters of last year's total. And there's no let-up in wheeling and dealing.
"We have 200 to 300 business plans inbound every day and usually every investment team member meets 20 deals per week, so basically each hour you're meeting a new entrepreneur," said ZhenFund Chief Executive Officer Anna Fang. Her average check-size is up to triple what it once was.
But tensions between the U.S. and China could soon make life harder for a startup and investment community that increasingly straddles both countries. The U.S. Treasury Department is said to be planning heightened scrutiny of Chinese investments in sensitive American industries from new-energy vehicles to robotics, on top of potential visa restrictions. Qiming Venture founding partner Duane Kuang cites autonomous driving as a possible victim: its startups often rely on Chinese coders educated in the West.
"If the politicians start caring too much about it, it could be worrisome," he said.
If the situation gets dire enough, going local may become more attractive. Beijing's push to become a technology powerhouse through its Made in China 2025 blueprint is a powerful incentive to back areas from biotechnology and autonomous driving to chips and and artificial intelligence.
Cedarlake Capital founder and former Morgan Stanley managing director Bao Yi predicts Tsinghua Unigroup -- the state-linked company leading China's charge into semiconductors -- will be a big winner in the long term thanks to a potent mix of research capabilities, cash and government support. In the private sector, a coterie of up-and-coming mega-startups from Beijing Bytedance Technology Co. and SenseTime Group Ltd. to Didi Chuxing are now developing next-generation AI and self-driving technology.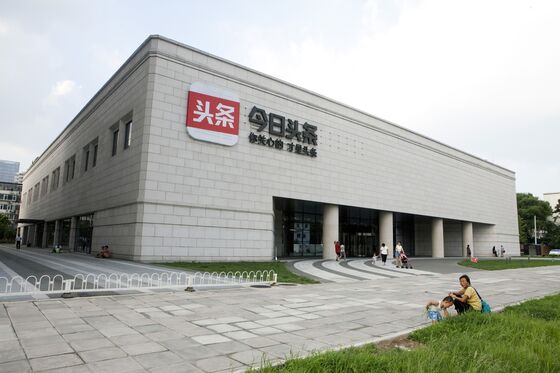 If all else fails, the Chinese work ethic may prove pivotal.
"I can tell them 'today my meeting schedule is full, I'm packed from 7 a.m. to 11 p.m., I can't make any more meetings.' And they'll say 'oh, can we come in at 11?'" GGV Capital managing partner Jenny Lee said. "When you have a huge population trying to make changes, trying to do better, and they're willing to put in the hard work, the chance of them surpassing the rest of the world is very high."
To contact Bloomberg News staff for this story: David Ramli in Beijing at dramli1@bloomberg.net;Haze Fan in Beijing at hfan40@bloomberg.net;Tom Mackenzie in Beijing at tmackenzie5@bloomberg.net
With assistance from Editorial Board