U.S. Consumer Confidence Declines With Economic Optimism Cooling
(Bloomberg) -- U.S. consumer sentiment eased in June as Americans became less optimistic for the economy and income growth, according to figures Tuesday from the New York-based Conference Board.
Highlights of Consumer Confidence (June)
Confidence index fell to 126.4 (est. 128) from 128.8 in May (prev. 128)
Present conditions measure little changed at 161.1 after 161.2 
Consumer expectations gauge fell to 103.2, lowest in 2018, from 107.2
The report indicates that while Americans remain upbeat on the current state of the economy amid bountiful jobs and lower taxes, there is less confidence that gains will remain robust. Some 18.8 percent of respondents said they expected their incomes to rise in the next six months, the smallest share since April 2017. As a result, purchase plans for motor vehicles and major appliances settled back.
Along with still-tepid wage gains, confidence may be feeling an impact from elevated fuel prices and an intensifying global trade war that threatens to boost inflation and has already spurred big swings in the stock market. The University of Michigan's consumer sentiment gauge showed a similar result on economic expectations earlier this month.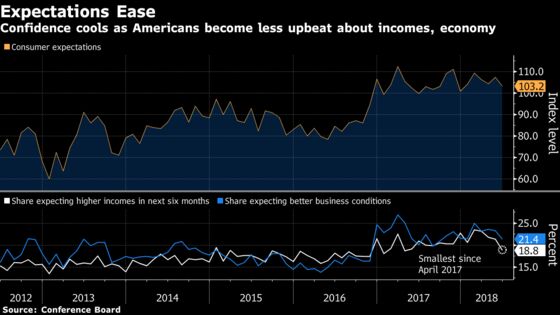 "While expectations remain high by historical standards, the modest curtailment in optimism suggests that consumers do not foresee the economy gaining much momentum in the months ahead," Lynn Franco, director of economic indicators at the Conference Board, said in a statement.
21.4 percent of consumers -- smallest share since September -- said they expect better business conditions in next six months, down from 23.3 percent in May
Share who said more jobs will be available in coming months ticked up to 20 percent, a four-month high, from 19.7 percent
Share of respondents planning to buy an auto within six months fell to 10.7 percent, lowest since October 2015; 48 percent plan to purchase a major appliance such as a refrigerator or television, smallest share in almost a year