Top Asian Currency Forecaster Says Won Most Exposed to Trade War
(Bloomberg) -- While nuclear saber-rattling has failed in the past to torpedo the won, the growing rift between South Korea's two biggest trading partners has ING Groep NV slashing its forecast for the currency.
The Dutch lender, ranked by Bloomberg as the most-accurate forecaster of Asian currencies in the first quarter, says the won is the most exposed floating currency in the region to a U.S.-China trade war. It cut its year-end projection by 11 percent to 1,180 per dollar. That implies a 5.5 percent decline from the spot rate and would take the won back to levels last seen in January 2017.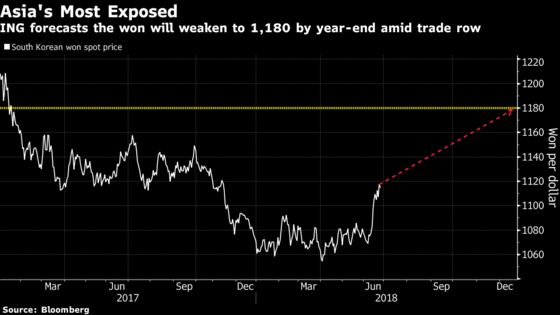 "We have to consider whether this trade environment is going to intensify further and we think it will," Rob Carnell, head of research and chief economist for Asia Pacific at ING in Singapore, said in an interview. "The biggest boost for the won right now, would be a cessation of hostilities, not with Pyongyang, but Washington," he wrote in a note on Monday.
A trade-war induced slowdown in Chinese growth would hit South Korea hard as exports account for 43 percent of its gross domestic product and the mainland takes more of its goods than its next three biggest markets combined. The won is already Asia's worst-performing currency this month.
ING's forecast is the equal-most bearish among 43 year-end estimates, compiled by Bloomberg, with the median projection being 1,078 a dollar. Bank of America Merrill Lynch said in a June 22 note that the won could weaken to 1,160 a dollar if trade tensions between the U.S. and China worsen after July 6, a deadline for the implementation of some of the U.S. tariffs.