Three Big Levels May Bring Pain to Screeching Halt: Taking Stock
(Bloomberg) -- S&P Futures are dipping slightly after Europe markets nearly pared all gains and China pressed into a bear market (yuan headed for longest losing streak in four years), though nothing incremental has hit on the trade front since Navarro went on the tube ~3:30pm yesterday in an attempt to assuage the market on trade war fears (this helped move the SPX up ~15 handles in the last half hour of trading).
It looks like we'll keep testing three major levels on the S&P 500, as we did on Monday after a brief dip to 2,699, assuming we continue to hold the bottom end of our recent 2,700-2,800 range: 1) the whole number at 2,700, followed by 2) the 100-day moving average at 2,703, and then 3) the 50-day moving average at 2,716.
As for stock moves, GE is up over 4% after divulging plans to slim down further, homebuilders should get a relief rally on Lennar's beat (LEN up ~8%, and we'll get Case-Shiller housing data later this morning too), and tech is looking a bit greener today after Monday's bloodbath, aside from Intel, which is off ~2% on a Bernstein downgrade (more on this below).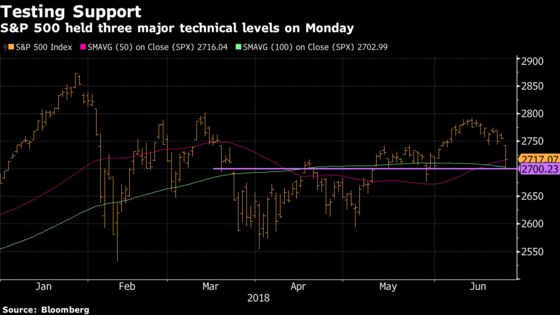 Reasons for Monday's Selloff
Global Rout: Setting the tone off the bat was news, reported in multiple outlets, that the U.S. planned to curb Chinese investments in sensitive U.S. industries under an emergency law (invoking an "emergency law" doesn't exactly scream that things are A-OK on the resolution front), setting out a rout in Europe and China markets that have looked precarious of late

Note that White House trade adviser Peter Navarro appeared to issue a denial on the big trade revelation late in the session, saying there were no plans to impose the investment restrictions on any countries, and the bulls breathed a very slight sigh of relief on the way a ~15-handle bounce in the SPX

Red Flags: Harley-Davidson becoming another casualty of the trade war, giving us another real and tangible data point ($100 million a year in costs) after Daimler's warning shot on profits, which may have been a much bigger catalyst for last Thursday's weakness than any of the vocal trade threats

Trump tweeted a response after the close: "Surprised that Harley-Davidson, of all companies, would be the first to wave the White Flag. I fought hard for them and ultimately they will not pay tariffs selling into the E.U., which has hurt us badly on trade, down $151 Billion. Taxes just a Harley excuse - be patient! #MAGA"

Earnings Whiff: The one big earnings of the day, Carnival, cratered >10% at one point after slashing its earnings outlook and sending all cruise liners tumbling-- silver lining is that the China commentary (~15% of 2017 revenue tied to Asia & Australia) was sanguine: "We haven't heard of any sanctions on either side that would directly impact the cruise industry"
From Strength to Weakness: We saw a pullback in several areas that have been shown flashes of resilience amid the trade fears, like the momentum stocks (MTUM ETF -2.2%), the small caps (RTY -1.7%) and the FAANGs (NFLX -6.5%, AMZN, GOOGL & FB all down more than 2.5%)
Tech For Sale: The Nasdaq had its widest intraday gap vs the S&P 500 since March as the selling across the sector was broad-based, from the semis (SOX -3.1%) to the Internet/social media names to the recent high-flying IPOs; I have to think that a wary valuation call from a bull like Bernstein's Toni Sacconaghi ("for the first time in years, tech has become meaningfully more expensive") couldn't have sat well with investors plowed heavily into growth
Industrials Can't Catch a Bid: We've seen virtually zero support in the industrials stocks with CAT and BA continuing to lead the breakdown in the Dow while the TRAN is now negative on the year
Getting Defensive: Rotation into defensive groups appears to be gaining speed, with utilities and staples both in the green on Monday; in the past six sessions, S&P Utilities is up 4.2%, REITS are up 2.3%, and Staples are up 0.5% vs the SPX down 2.3%
A ton of tech action today, starting with Bernstein putting the hurt on INTC, downgrading shares to an underperform with a Street-low price target $42: "We have been regretting" upgrading shares after the last earnings report as "it is becoming increasingly apparent that the structural issues we have promulgated for years are becoming ever obvious to investors"..
Elsewhere in tech, UBS upgraded MU to a neutral (shares up almost 3% already), Imperial initiated NFLX with a Street-high target of $503 (up 1.3%), Barclays rates SPOT a new overweight (up 2%), and Stephens cut SQ to an equal-weight (down 1.6%)..
Morgan Stanley's Adam Jonas remains cautious on U.S. rental car fundamentals, resuming CAR with an underweight and reiterating HTZ at the same rating.. JPMorgan removes its underweight on CBOE after hammering the stock on VIX volume concerns..
Stifel is bullish on DE after meetings with management, noting that while tariff news is creating volatility in the commodity market, "it is structurally not possible, in our view, for China to source all of their internal soybean needs from outside of the U.S. or exclude the U.S. all together without dramatic changes in diet or behavior"..
Goldman makes some changes in the gaming & lodging space, downgrading MGM to a neutral and taking it off the conviction list and swapping it with WH on sustained Economy chain scale revpar and core La Quinta growth.. Morgan Stanley separately has a positive note on MGM on upside to legalized sports betting in the U.S.
BMO slashes estimates on two oil service majors, HAL and SLB, to reflect lower U.S. land expectations ("cracks have emerged"; sees as much as 20% downside to Permian completion activity) and higher international costs..
Tick-by-Tick Guide to Today's Actionable Events
Today -- BMO Chemical Conference (APD, DWDP, ECL, LYB, SHW, WLK present)
7:00am -- FDS earnings
8:00am -- AKAM analyst day
8:30am -- SCHN earnings
8:30am -- ATRC analyst meeting
8:30am -- Cheniere Energy co-founder Charif Souki on Bloomberg TV
9:00am -- Case-Shiller housing data
9:00am -- GAIN call on proxy proposals
9:30am -- Senate committee meets on prescription drug affordability
10:00am -- Richmond Fed, Conference Board Consumer Confidence
10:00am -- World Cup: Australia vs Peru, Denmark vs France
11:00am -- LEN earnings call
11:00am -- TEP M&A vote
12:00pm -- CBAY analyst day
1:00pm -- Fed's Bostic speaks
1:45pm -- Fed's Kaplan speaks
2:00pm -- APLS R&D day
2:00pm -- World Cup: Nigeria vs Argentina, Iceland vs Croatia
3:10pm -- CQP CEO Jack Fusco on Bloomberg TV
4:05pm -- SONC earnings
4:30pm -- API oil inventories
4:30pm -- COP CEO Ryan Lance on Bloomberg TV
9:30pm -- China Industrial Profits
Tonight -- IPOs to price: Uxin (UXIN), Neon Therapeutics (NTGN), HyreCar (HYRE)
Tonight -- Congressional primaries in Colo., Md., N.Y., Okla., and Utah; runoff elections in Miss. and S.C.