Home Prices in 20 U.S. Cities Grow at More Sustainable Pace
(Bloomberg) -- Home prices in 20 U.S. cities continued to advance at a solid, albeit a touch slower, pace in April, reflecting lingering inventory shortages, according to S&P CoreLogic Case-Shiller data released Tuesday.
Highlights of Home Prices (April)
20-city property values index increased 6.6% y/y (est. 6.8%), after rising 6.7% y/y (prev. 6.8%)
National home-price gauge advanced 6.4% y/y after 6.5%
Seasonally adjusted 20-city index rose 0.2% m/m (est 0.4%), the smallest gain since July
The report indicates a respite in the steady acceleration in property values since the end of 2014. Seattle, San Francisco and Las Vegas led the gain among cities posting a year-over-year advance in April. Price gains in this recovery have been supported by healthy demand amid a strong labor market and improving consumer finances. At the same time, there's a persistent shortage of available and affordable listings, and borrowing costs have risen this year. Property-price appreciation that's outpacing wage growth also is a headwind for younger or first-time buyers, though a positive for homeowners' equity.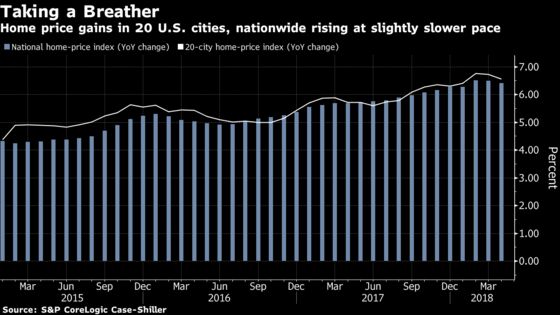 "The favorable economy and moderate mortgage rates both support recent gains in housing," David Blitzer, chairman of the S&P index committee, said in a statement. "One factor pushing prices up is the continued low supply of homes for sale. The months-supply is currently 4.3 months, up from levels below 4 months earlier in the year, but still low."
All 20 cities in the index showed year-over-year gains, led by a 13.1 percent increase in Seattle and a 12.7 percent advance in Las Vegas
After seasonal adjustment, Detroit had the biggest month-over-month rise at 1.3 percent, followed by a 1.1 percent increases in both Las Vegas and Seattle 
Home prices fell in New York, San Francisco and Washington from the prior month