China ETF That Was Popular Last Month Turns Sour as Trade War Escalates
(Bloomberg) -- America's heated trade dispute with China is rattling investors in an exchange-traded fund that tracks the nation's A-shares.
The KraneShares Bosera MSCI China A Share ETF, or KBA, saw frenzied trading Tuesday after the benchmark index in Shanghai plunged into a bear market overnight. More than $62 million in shares changed hands by 2:52 p.m. in New York, roughly 11 times the daily average in the past year. The ETF fell 1.2 percent to the lowest level since June 2017.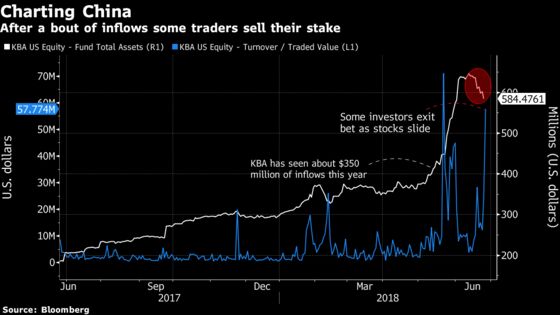 It's a stark reversal for a fund that saw $197 million in inflows during May after MSCI Inc. said it would include Chinese shares in its emerging-market index as of June 1. More than $1.9 trillion in assets track the index, according to MSCI's website. But investors have pulled $12 million in the past two weeks, the first sign of outflows since February.
"KBA has been getting some love this year because it is literally holding stocks that are going into the MSCI index," said Bloomberg Intelligence analyst Eric Balchunas. "The question is, how much pain can people take day-to-day or month-to-month? And clearly, not everyone is going to have the same stomach for that."
Selling has deepened as President Donald Trump threatened to slap tariffs on as much as $450 billion of Chinese goods headed for the U.S. and the Treasury Department was reportedly planning curbs on Chinese investment in American technology. Economic data released two weeks ago missed expectations, heightening angst that the world's largest economy was slowing.