Trump Adviser Talks Down Trade Policy Threat to Calm Markets
(Bloomberg) -- White House trade adviser Peter Navarro sought to ease investor concerns about U.S. trade policy, indicating that a Treasury Department report later this week on American restrictions on foreign investment won't be as sweeping as markets are anticipating.
"There's no plans to impose investment restrictions on any countries that are interfering in any way with our country. This is not the plan," he said in an interview on CNBC Monday with the Dow Jones Industrial Average down more than 400 points. "The whole idea that we're putting investment restrictions on the world -- please discount that."
U.S. equities pared losses after Navarro's comments, which were seen as a softening of the Trump administration's trade rhetoric. Still, Chinese shares tumbled into a bear market Tuesday and exchanges from South Korea to Taiwan also racked up losses. S&P 500 Index futures were little changed as of 5:15 a.m. in New York.
Stocks and currencies from Asia to Europe have sold off the past week as the U.S. upped its threats to levy tariffs on imported goods and foreshadowed the plan on investment, which Treasury Secretary Steven Mnuchin has been working on since December.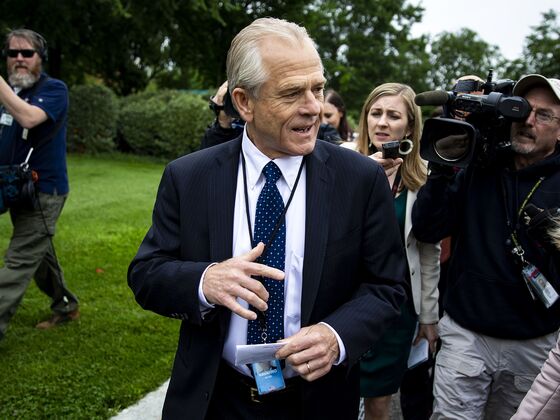 His department is due to announce restrictions on Chinese investment in the U.S. by Friday. The action is part of the Trump administration's responses to China's alleged intellectual-property theft, as laid out in a report that followed an eight-month investigation by the Office of the U.S. Trade Representative.
Chinese Foreign Ministry spokesman Lu Kang struck an optimistic tone on Tuesday, telling reporters that China and the U.S. can overcome any problems as long as they seek to meet each other halfway. The interests of both countries are highly integrated, he said.
Navarro's comments on Monday weren't enough to boost the Dow Jones Industrial Average. It ended the trading session down 1.3 percent, the ninth drop in the past 10 trading days.
Recent equity-market declines are an overreaction, Navarro told CNBC.
"Things are bullish here in America," he said, adding that U.S. economic growth is going to reach 4 percent. "All we're doing here with the president's trade policy is trying to defend our technology when it may be threatened."
Mnuchin said in a tweet earlier Monday that the report would not be specific to China "but to all countries that are trying to steal our technology."
Navarro seemed to contradict Mnuchin's statement, saying that the Section 301 investigation was focused on China and that Treasury's assessment due Friday "does not include any other countries."
Navarro said markets should "let the process work" and President Donald Trump was "going to get good information this week on where the chess board stands and make decisions accordingly."