Every Step China's Taking to Contain Losses in Financial Markets
(Bloomberg) -- Policy makers in China are taking measures to instill confidence in one of the world's worst-performing equity markets -- to limited success so far.
The steps, which pale in comparison to policies and restrictions imposed in previous equity-market crises, come after a $1.7 trillion rout took the benchmark stock gauge to a two-year low. The Shanghai Composite Index swung between gains and losses Monday after the central bank cut the amount banks need to set aside as reserves, in a widely expected move.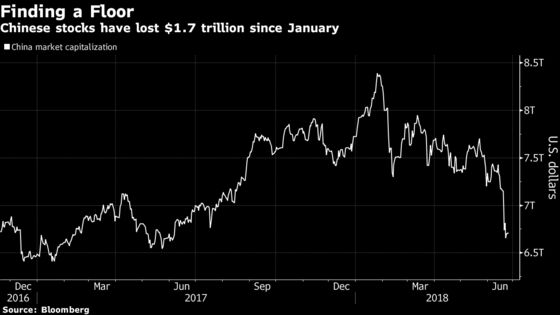 Here's a list of support measures that the country's government, central bank, media and its companies have taken in June to cushion outside risks to economic growth and ensure the supply of liquidity in the financial system.
China's central bank on Sunday lowered the required reserve ratio, unlocking about 700 billion yuan ($108 billion) of liquidity from July 5. The move, while welcomed by analysts, was seen as insufficient to offset concern about a trade war, slowing growth and a deleveraging campaign.
Chinese regulators told brokerages last week to seek government approval before dumping large chunks of pledged stock. With the country's stocks teetering on the edge of a bear market, the risk was that leveraged shareholders would be forced to sell, triggering even more declines. More than 5 trillion yuan of Chinese shares, or about 12 percent of the country's market value, have been pledged as collateral for loans.
At least 101 Chinese firms on June 20 and 21 said major shareholders and executives plan to increase their stakes or have bought shares, according to exchange filings. The move is reminiscent of steps taken by companies to shore up confidence when the stock bubble burst in 2015.
When he saw how equity markets reacted to an escalation of trade tensions with U.S., the People's Bank of China Governor Yi Gang called for investors to remain calm and said the central bank will use monetary policy "comprehensively" to counteract any outside shocks. It's relatively uncommon for the PBOC to comment on turbulence in financial markets.
Following a $406 billion wipeout from the nation's stock market on June 19, the largest single-day loss of value in more than two years, China's four state-owned financial newspapers printed editorials telling investors to keep calm. "China A shares do not have the basis for sustained decline" was the front-page headline in the China Securities Journal.
The PBOC earlier this month increased its injections of cash to the financial system, as well as broadening the range of collateral it allows banks to use when they borrow money. It also held off from immediately raising borrowing costs to follow a rate hike from the U.S. Federal Reserve.