BOE's Past and Future Collide This Week as Hawks Speak Out
(Bloomberg) -- Investors will get a vision of the Bank of England's past, present and future this week.
Ian McCafferty, who has a reputation for being the Monetary Policy Committee's most hawkish member, will on Tuesday give what is likely to be his final speech before he leaves the bank in August. At the same time, Jonathan Haskel, the man chosen to replace him, will make his first public appearance in his new capacity before lawmakers in Westminster, where he may give the first signs of his views on policy.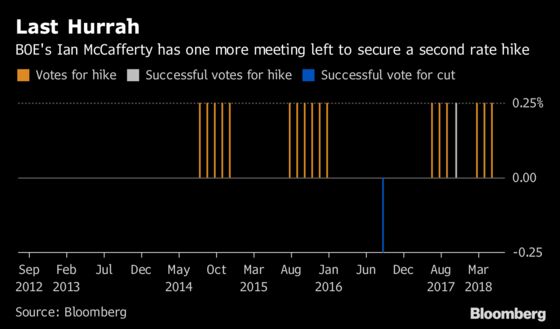 Two days later, chief economist Andy Haldane, who shocked markets last week by unexpectedly joining McCafferty and Michael Saunders in voting for an immediate interest-rate increase, is due to make a speech that may see him lay out the reasons for his switch.
The appearances come as markets judge the likelihood of an August hike from the BOE. While all officials agree that a gradual tightening of policy is required, most said this month there was still some value to seeing how the data evolve.
They'll get two more clues on Friday. The statistics office publishes the final estimate of first-quarter gross domestic product, while the BOE releases data on May mortgage approvals and consumer credit.
Traders currently assign a 67 percent possibility to a rate increase in August, up from less than 50 percent before Haldane's surprise hawkish tilt. A hike would be a fitting denouement for McCafferty, who has voted for one 18 times across his 63 meetings, with his only success thus far coming last November.
His view got an implicit endorsement from the Bank for International Settlements. Central banks shouldn't delay tighter monetary policy out of concern for upsetting markets, said Claudio Borio, BIS head of economics, in remarks published Monday. Officials needn't get distracted by any volatility that rate increases may cause, so long as it remains contained.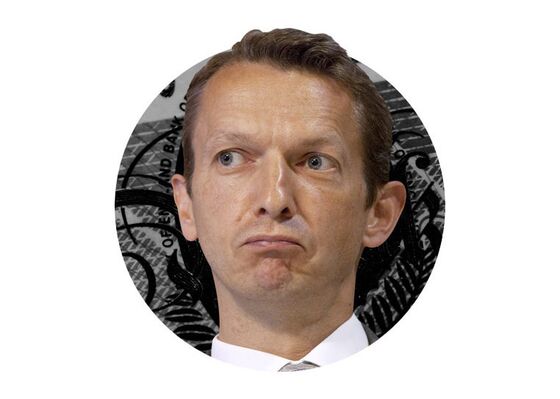 With the stance of McCafferty, and now Haldane, made public, it may be that Haskel's confirmation hearing in Parliament may be watched the most closely by investors, even though he doesn't have a vote in August. It's possible that the renowned productivity expert and Imperial College Business School professor will be more dovish than his predecessor.
Haskel's testimony will "tell us a bit more about whether we get a hawk replacing McCafferty from the end of August onwards -- are we about to go from three to two?," said Victoria Clarke, an economist at Investec in London. "My hunch would be that, much like many others who are fresh to the MPC, he'd be unlikely to jump in and vote for hike immediately if that wasn't the mood of the committee broadly."