One of Trump's Two `Currency Manipulators' Is Still at It
Thanks to a fiscal mechanism in effect since 2017, a revenue windfall from oil and gas is spent on purchasing foreign currency in the domestic market and channeled into a sovereign fund when Russia's Urals export blend is above $40 a barrel. Without this budget rule, the ruble would trade at about 50 versus the dollar at current oil prices, or almost 30 percent stronger than its present value, according to Finance Minister Anton Siluanov.
Since the U.S. president's tweet in April singled out Russia and China for gaming their currencies, the ruble is down over 3 percent against the dollar, despite a rally of more than 3 percent in oil during the period. In emerging markets, only Argentina's peso, the Turkish lira and the Brazilian real have had a worse year than the Russian currency, whose 9 percent drop so far in 2018 was also fueled by U.S. sanctions in April.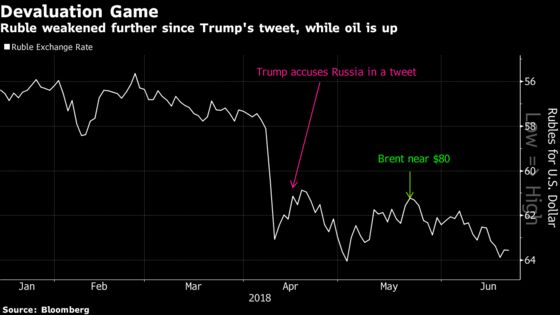 Unlike other countries that have suffered currency declines, Russia's approach has won praise from rating companies and the International Monetary Fund. It also accomplished the feat without compromising the credibility of the central bank, which has allowed the ruble to trade freely since late 2014.
After Trump's tweet, a top official at the Bank of Russia said authorities are letting the market determine the exchange rate and have no intention of weakening the ruble.
Siluanov, who was promoted to an additional role of first deputy prime minister after President Vladimir Putin's re-election in March, didn't sound apologetic about the consequences of the budget rule for the exchange rate. Asked in Moscow on Wednesday about possible adjustments to the mechanism depending on changes in oil, Siluanov said the policy has served Russia well, making the ruble more predictable.
It also keeps the Russian currency from depreciating sharply if oil prices fall, according to Siluanov. Brent crude slipped close to $73 a barrel on Thursday and the ruble traded little changed near 63.7 against the dollar in Moscow. When oil was near the same level in November 2014, the ruble was at just around 50 versus the U.S. currency. The ruble was 0.8 percent stronger on Friday at 63.2375 as of 10:34 a.m. in Moscow as crude rebounded.
"We prepared this budget rule together with the central bank," Siluanov said. The goal is "to ensure predictability in business activity from fluctuations in the exchange rate."