Europe Hits Back at Trump's Tariffs as Global Tensions Mount
(Bloomberg) -- The European Union's retaliatory tariffs on U.S. products came into force on Friday, the latest shots fired in what increasingly looks like a global trade war.
The EU, the world's largest trading bloc, imposed levies on 2.8 billion euros ($3.3 billion) of American products in response to U.S. duties on its steel and aluminum exports that were justified on national security grounds.
"We did everything we could to avoid this situation, but now we have no choice but to respond,'' said EU Trade Commissioner Cecilia Malmstrom. "It is frankly ridiculous that EU steel is considered a threat to U.S. national security. As longstanding allies of the U.S., we were disappointed, but not surprised.''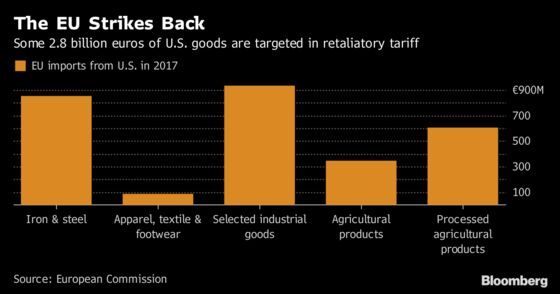 The European reaction opens up another front in Washington's battle to reshape its commercial relationship with the world. President Donald Trump has levies on $250 billion of Chinese goods in the pipeline and already placed duties on products from allies including Canada, Mexico and Japan.
The economic risks of tit-for-tat tariffs imposed by the world's main trading blocs have created divisions among White House officials, with one faction seeking talks with China to take the heat out of the situation. Another group is determined to punish China, and the president himself, who was forced to reverse a high-profile immigration policy this week, has shown no signs of backing down.
Risk sentiment benefited from signs that Washington may be seeking to calm tensions with China. European stocks rose, along with U.S. futures, while declines in Japanese and Hong Kong equities were offset by advances in their Chinese and Korean counterparts.
The Trump administration said last week that it would impose 25 percent tariffs on $34 billion in Chinese imports on July 6, with $16 billion more under review, and 10 percent tariffs on another $200 billion announced on Monday. China vowed to retaliate.
Weeks before the U.S.-China tariffs are even supposed to be implemented, their first high-profile victim has already stepped forward. Daimler AG said Wednesday that profit will suffer as exports from its Alabama factory to China will likely will be lower than the 60,000 vehicles it had expected this year. BMW AG, America's top auto exporter, is another company under threat due to its sport utility vehicle plant in South Carolina.
The EU is imposing a 25 percent duty on a range of U.S. products including Harley-Davidson Inc. motorcycles, Levi Strauss & Co. jeans and bourbon whiskey. The EU measures cover a total of around 200 categories in total, also including various types of corn, rice, orange juice, cigarettes, cigars, t-shirts, cosmetics, boats and steel.
The U.S. has placed tariffs of 25 percent on steel and 10 percent on aluminum that the EU says are pure protectionism masquerading as national-security policy.
The EU is reserving the right to target more U.S. products with further duties no later than June 1, 2021. Second-stage retaliation would involve levies ranging from 10 percent to 50 percent on an extra 3.6 billion euros of American goods imported into the EU.
"We are not giving into the politics of fear,'' Malmstrom said, insisting that the EU remains committed to the multilateral trading system centered on the World Trade Organization.
"The system is currently threatened,'' she said. "And we need to stand up for it.''