Billionaire Cheng Bolsters Aviation Assets With Leasing Purchase
(Bloomberg) -- Hong Kong's billionaire Cheng family, best known for its Chow Tai Fook Jewellery Group, is expanding its aviation business with the purchase of an aircraft leasing firm in Ireland.
Goshawk Aviation Ltd., owned by Chow Tai Fook Enterprises Ltd. and NWS Holdings Ltd., agreed to buy a unit of Sky Aviation Leasing International L.P. that has grown into a $3 billion business, according to a June 21 statement from investment groups selling the asset. The deal, whose value wasn't disclosed, is subject to regulatory approvals and set to close in the third quarter.
China-based aircraft leasing companies are emerging as a key driver of the global aviation finance market, according to FlightGlobal. A travel boom in the region is attracting investors to the business, whose returns can often exceed those of airlines. The acquisition of Dublin-based Sky Aviation Leasing International Ltd., or Sky Leasing, will help swell Goshawk's fleet of 120 aircraft worth more than $5.8 billion, according to Goshawk's website.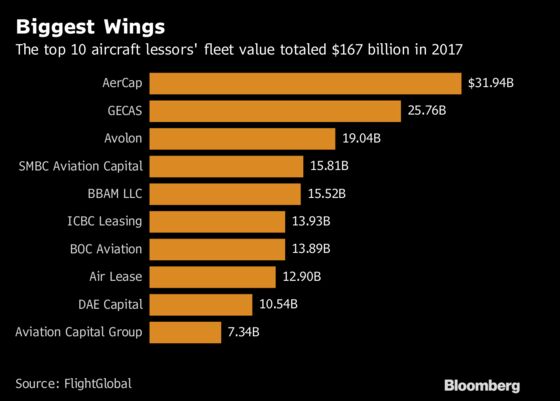 The option of leasing planes also helps carriers cap cost of ownership in a market that is at the mercy of see-sawing crude-oil prices. Sky Leasing, which has acquired or committed to buying 51 commercial aircraft, has a regional office in Hong Kong and counts China's three major state carriers among its clients.
Leased airplanes account for about 42 percent of the world's fleet, according to Flight Ascend Consultancy. Among the world's top 12 lessors, four are Chinese-owned. Europe and Asia Pacific hold about 30 percent each of the world's leased fleet.
Chow Tai Fook Enterprises is owned by the family headed by tycoon Henry Cheng, whose net worth is $16.9 billion, according to the Bloomberg Billionaires Index. Hong Kong-listed NWS is a subsidiary of New World Development, the family's main property, hotels and infrastructure company. Fortland Ventures, a unit of NWS, is the largest single shareholder of Beijing Capital International Airport Co., according to data compiled by Bloomberg.
Gowshawk will buy the business from the Public Sector Pension Investment Board, one of Canada's largest pension investment managers, and private-equity firm ATL partners.