Italy and Trade Keep SNB's Jordan on Alert After Franc Rally
(Bloomberg) -- The Swiss National Bank kept interest rates at a record low and indicated once again it's in no rush to tighten monetary policy given an escalation of global risks that could spark a rally in the franc.
The central bank said Thursday that the haven currency remains "highly valued" and noted its recent appreciation because of Italy's political turmoil. It said growth risks are to the downside and that its policy of negative rates and intervention threats remains "essential."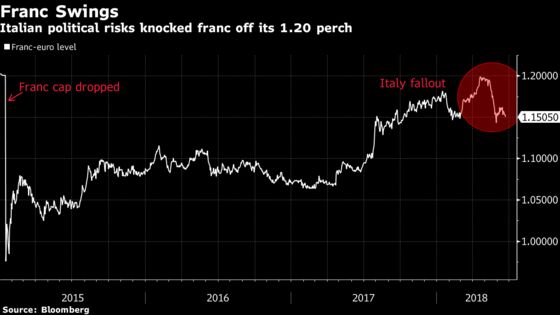 The warnings echo those coming from other central banks, with many highlighting the dangers from escalating trade tensions. While policy makers in the U.S. and elsewhere are moving out of crisis-era measures, they are doing so cautiously, with one eye on potential stumbling blocks to a smooth exit.
President Thomas Jordan said after the announcement that some of the franc's recent swings have been "substantial," emphasizing his heightened caution. New inflation projections sent a dovish signal, with the SNB cutting its 2020 forecast and seeing price growth staying below 2 percent through the end of that year.
The franc strengthened 0.2 percent to 1.15028 per euro as of 10:15 a.m. Zurich time. It briefly touched the symbolic 1.20 level in April before reversing course last month amid political turmoil in Italy. That revived memories of Europe's debt crisis, when the SNB spent billions of francs intervening.
"In light of political uncertainty in Italy, we have since seen countermovement, particularly against the euro. The situation on the foreign exchange market thus remains fragile."

--SNB Policy Assessment
Commenting on the global economic outlook, the SNB said near-term signals "remain favorable." Among the risks, the biggest are "political developments in certain countries as well as potential international tensions and protectionist tendencies."
"The bottom line is that it's clearly on the dovish side," said Frederic Ducrozet at Pictet in Geneva. The 2020 inflation revision is "the perfect excuse to do nothing for a much longer period of time than we expected."
As expected, the SNB left its deposit rate at a record-low minus 0.75 percent. It's been at that level since 2015, when the SNB abandoned its cap on the franc of 1.20 per euro.
The central bank, whose mandate is to keep price growth below 2 percent, sees inflation at 0.9 percent this year and next. It raised the 2018 outlook because of higher oil prices, but reduced its 2020 projection to 1.6 percent from 1.9 percent in March.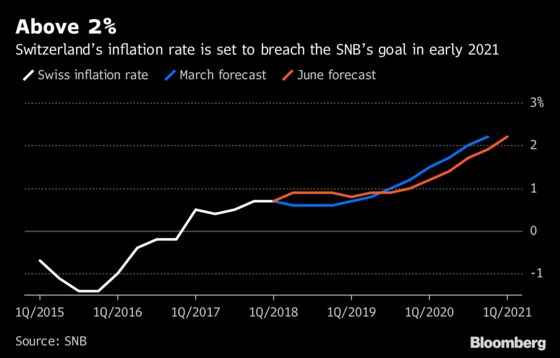 The SNB decision comes exactly a week after the ECB said it will end bond purchases in December while keeping borrowing costs at record lows until the second half of 2019.
With the SNB aiming to maintain a rate differential with the ECB, that's another reason Jordan won't rush into tightening.
'It's of no use to change monetary policy too early to provoke an appreciation of the Swiss franc," he told reporters. "So we remain prudent."