Ross Shrugs Off Powell's Warning on Trade as China Tariffs Loom
(Bloomberg) -- Commerce Secretary Wilbur Ross disputed concerns raised by Federal Reserve Chairman Jerome Powell and others that U.S. companies are becoming so anxious about the prospect of a trade war that they're postponing investment and hiring decisions.
"Anyone who thinks the economy is being wrecked doesn't know what they're talking about," Ross said in a Bloomberg Television interview Thursday. News reports on the Trump administration have been negative and played up the troubles smaller companies are encountering with tariffs, he said.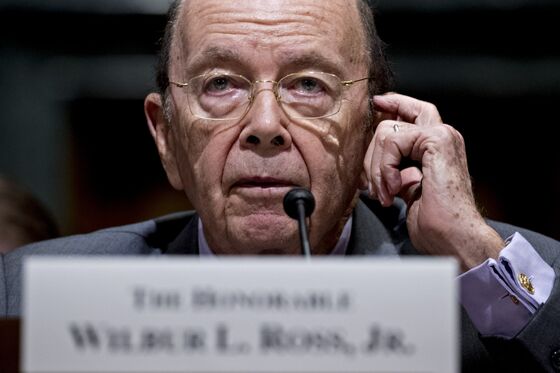 The Dow Jones Industrial Average headed for an eighth straight day of losses, partly on concern the U.S. and China will impose tariffs on each other's imports, a move that could set off a wave of retaliation and derail the global expansion.
The Trump administration said last week that it would impose 25 percent tariffs on $34 billion in Chinese imports on July 6, with $16 billion more under review and 10 percent tariffs on another $200 billion announced on Monday. China vowed to retaliate.
In the interview, Ross was responding to a question about Powell's comment this week that trade spats may weigh on the outlook for growth. "Changes in trade policy could cause us to have to question the outlook," Powell said Wednesday at conference in Portugal. "For the first time, we're hearing about decisions to postpone investment, postpone hiring."
Asked about those remarks, Ross said "I don't think that that's true, that there's some big change."
Daimler AG on Wednesday became the first major car manufacturer to slash earnings projections in anticipation of higher tariffs on U.S.-made vehicles imported into China.
The Commerce chief emphasized falling unemployment and lower taxes, and cited improving labor market conditions for women and minorities. In the latest Bloomberg News survey of economists, the median estimate for second-quarter growth is 3.4 percent. That would be the fastest pace since 2014.
Ross said the U.S. has the upper hand on trade tensions with China and could pursue more tariffs than it already has. "If it really does get to be a big war, we have many more bullets than any of these other countries," he said.
Tariffs on metal imports enacted on national security concerns are straining U.S. ties with allies from the European Union to Canada and Mexico. Other countries have become "spoiled" after taking advantage of free markets in the U.S. while erecting their own trade barriers, Ross said.
"That game is over," said Ross. "We're going to fix it by making it more painful for those countries to do bad practices than to do the right thing, which is to lower the trade barriers and lower their tariffs."
Trade tensions are likely to intensify even more, Goldman Sachs Group Inc. Chief Economist Jan Hatzius wrote in a report late Wednesday.
"In order for proposed tariffs to be useful in a negotiating strategy, trading partners must believe the risk is real," he said. "We do not expect the Trump administration to be able to convince trading partners these proposals are real without also convincing financial markets. If so, it seems likely that trade concerns could rise further over the next few months."