Norway Cements Plan to Tighten Faster Than European Colleagues
(Bloomberg) -- Norway's central bank fine tuned a plan to raise interest rates for the first time in seven years, getting ready to move ahead of peers from Frankfurt to Stockholm as the richest Scandinavians benefit from a recovery in oil prices.
After previously indicating an increase will come "after summer," Norges Bank Governor Oystein Olsen on Thursday said rates will now most likely be raised in September.
"The outlook for the economy is positive, the activity is growing, price inflation is below the target just now but it will pick up in accordance with a tighter economy and a tighter labor market," Olsen said in an interview after a press conference in Oslo. "The Norwegian economy is also affected positively by higher oil prices, and there are different features in our economy compared to some of our neighboring countries."
The bank on Thursday kept its rate path unchanged through June next year, suggesting two to three increases, but indicated a faster pace of tightening in the second half of next year. As anticipated, it held its key rate unchanged at 0.5 percent in a monetary policy decision.
The krone rose 0.5 percent to 9.42 per euro as of 12:10 p.m. in Oslo.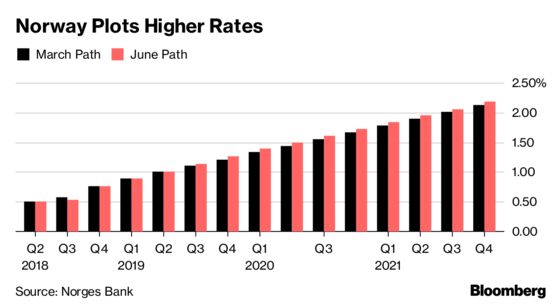 Norwegian policy makers and their peers globally are seeking to retreat from the extreme monetary stimulus unleashed in the aftermath of the financial crisis but remain cautious of tightening too fast. Sweden's Riksbank, which cut rates deep below has zero, has signaled an increase toward the end of this year, while the European Central Bank is preparing its own slower exit.
"We think news going forward should be significantly on the downside to prevent Norges Bank from hiking in September," said Joachim Bernhardsen, an analyst at Nordea Bank in Oslo. "In the case of news moderately on downside, we believe Norges Bank will choose to lower the path rather than postponing the first hike."
After steering through a crash in the oil industry, Norwegian policy makers have since last year been preparing to lift rates from a record low. Since its previous monetary policy report in March, the labor market has continued to strengthen, oil prices have climbed even higher and optimism among businesses is the most upbeat in almost six years. A weaker than expected currency is also providing room for Olsen to start raising rates.
| | | |
| --- | --- | --- |
| Norges Bank Projections | | |
| | 2018 | 2019 |
| Mainland GDP Growth | 2.6% (2.6%) | 2.3% (2.0%) |
| Underlying inflation | 1.3% (1.5%) | 1.5% (1.8%) |
| Unemployment  | 3.7% | 3.3%  |
| March forecasts in () | | |
But a recovery remains fragile with a potential trade war brewing and many trading partners showing signs that growth has peaked. Norway's inflation is also far below the 2 percent target as wage growth remains moderate following a four-year long struggle to exit a crash in oil prices in 2014.