Four Ways Powell's Hot Job Market Could Boost Growth Potential
(Bloomberg) -- The Federal Reserve's task is clear, in theory: raise and lower interest rates to smooth over economic cycles, making booms less euphoric and busts less painful.
But some central bank officials are questioning whether rate decisions today might also offer long-lasting, growth-boosting perks.
Minneapolis Fed President Neel Kashkari has suggested that keeping policy easy and allowing the job market to run hot could expand the labor pool. Adding his voice to the mix, Chairman Jerome Powell on Wednesday acknowledged the possibility that sustained strength could help potential growth.
"While persistently strong economic conditions can pose risks to inflation and perhaps financial stability, we can also ask whether there may be lasting benefits," Powell said in a speech in Sintra, Portugal.
It's an open question whether running the labor market above potential can deliver lasting benefits without fueling costly excesses. But if that beneficial overheating is playing out, here's where the results -- known to economics wonks as "positive hysteresis" -- might show up:
Powell pointed out that workers are coming back to the job market and off of disability rolls as the labor market tightens.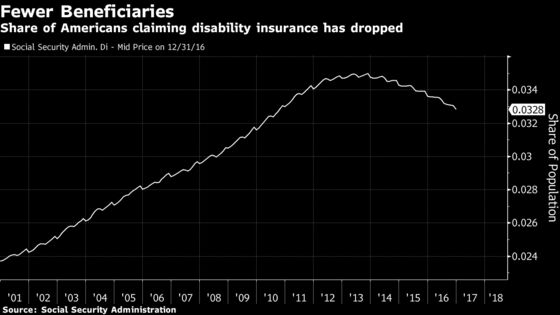 Disability rosters had been climbing for decades and topped out in the wake of the deep 2007 to 2009 recession. If the recent reversal is a sign that people are being pulled back into work thanks to economic strength, that's good news for potential growth: it means extra labor for companies and more spending money in American pockets.
Powell also noted that "some racial and ethnic minorities that still have higher unemployment and lower participation rates could see increasing benefits from a tight labor market." To his point, minorities have made major progress in recent years.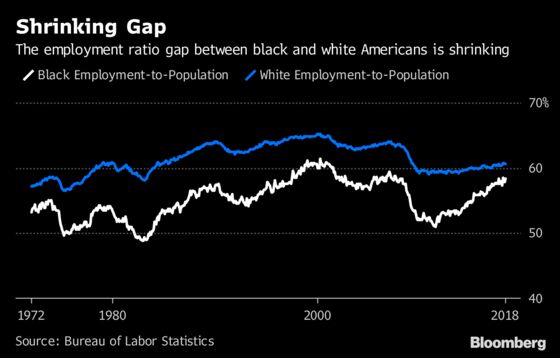 Fed critics regularly urge the central bank to leave rates low and run a hot job market specifically because it would benefit minorities, who take the biggest hit in downturns and make the biggest gains during expansions.
"A tight labor market may also lead businesses to invest more in technology and training, which should support productivity growth," Powell said in his speech.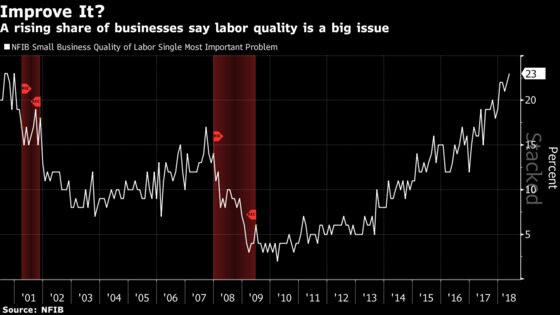 Businesses often say in surveys and interviews that applicants these days are unemployable because of criminal records or insufficient skills. But if firms decide that it's not a permanent condition -- if workers they previously would have passed over can be trained, given sufficient pressure to hire -- that would increase the size of the potential labor pool.
Employers have also been slow to buy new equipment during this expansion. If that changes because they're trying to keep costs down as wages slowly rise, it could enable existing workers to produce more widgets per hour. That, in turn, could lift the economy's capacity.
Productivity has been disappointing in recent years, but that could change should capital investment and better training finally materialize. Greater productivity means more room to expand.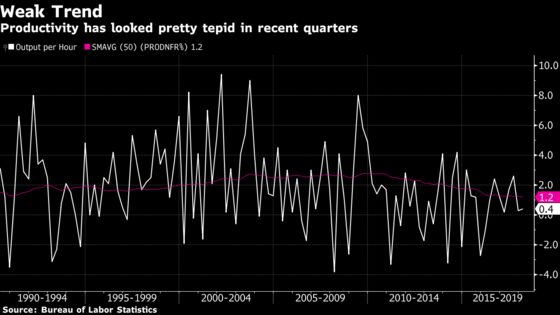 The Philadelphia Fed's business outlook survey signals employers might work on improving efficiency in order to boost production this year: 27.3 percent said they would increase the productivity of current staff without hiring and 25 percent said they would increase the working hours of existing staff. By comparison, 38.6 percent planned to hire new workers.
To be sure, Powell isn't the first to suggest that running the labor market hot could have lasting perks. Even before Kashkari, Janet Yellen famously noted that strong demand for workers could pull sidelined Americans back. Atlanta Fed research has also suggested a high-pressure economy creates longer-run benefits for some demographic groups.
And the Fed chief isn't signaling that the dividends of low joblessness will keep him from hiking rates. In the same speech, he advocated for continued, gradual increases.
What's interesting about Powell's comments is that they come at a time when unemployment is below 4 percent and is expected by many forecasters to fall to levels last seen in the 1960's. His speech suggests that when Powell surveys that landscape, he's seeing not just a fulfilled employment mandate, but a sort of economic petri dish.
"All told," he said Wednesday, concluding his remarks on the potential benefits of a hot job market, "the persistence of any such 'positive hysteresis' benefits is uncertain, since, again, the historical evidence is sparse and inconclusive."