U.S. Existing-Home Sales Unexpectedly Fall on Inventory Woes
(Bloomberg) -- Sales of previously owned U.S. homes unexpectedly fell in May for a second month as a lack of inventory and elevated asking prices weighed on demand, National Association of Realtors data showed Wednesday.
Highlights of Existing-Home Sales (May)
Contract closings declined 0.4% m/m to 5.43m annual rate (est. 5.52m), from revised 5.45m (prev. 5.46m)
Median sales price increased 4.9% y/y to a record $264,800
Inventory of available properties fell 6.1% y/y to 1.85m, lowest May in data 
The drop in sales was led by declines in purchases of single-family homes and cheaper properties, according to NAR, indicating that the market is being driven by those with higher income and financial assets. Purchases fell in three of four regions.
NAR says it remains concerned about a limited supply of available properties that has pushed up housing prices, leaving buyers with fewer options. In May, homes were on the market for an average 26 days, matching last month as the fewest days in records to 2008, the group said.
Sales of lower-cost homes were down from a year ago, while homes priced $250,000 or more were up. NAR last month had said it expects inventories of new homes to increase later this year. Government data on Tuesday showed the fastest pace of housing starts in more than a decade, even though a decline in applications to build suggested some moderation in building in coming months.
While lower taxes are boosting disposable income, higher mortgage rates and slow wage growth remain hurdles for first-time homebuyers. Federal Reserve officials this month raised borrowing costs a quarter point and boosted their outlook for two more increases in 2018.
Existing-home sales account for about 90 percent of the residential real estate market and are calculated when a contract closes. New-home sales figures, due Monday from the government, are projected to to increase slightly. These numbers are tabulated when contracts get signed, making them a timelier indicator despite their smaller market share.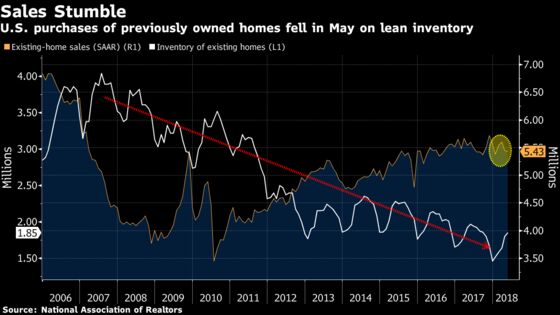 "Affordability challenges are hurting first-time buyers," Lawrence Yun, NAR's chief economist, said at a press briefing accompanying the report. Higher prices are "terrific news for homeowners, but not all Americans are owners. They're feeling left out by the constant outpacing of home-price growth over wage growth."
"The housing affordability issue is becoming a crisis," he said.
Realtors "say their seller clients are dealing with a seesaw of emotions when deciding to put their home on the market," Elizabeth Mendenhall, NAR president and a Realtor in Columbia, Missouri, said in a statement. "While they're thrilled that they will immediately find multiple buyers interested in their listing, many fear they'll have extreme difficulty finding another home to buy."
Purchases dropped in three of four regions, led by a 2.3 percent decrease in the Midwest and a 0.8 percent drop in the West
At the latest selling pace, supply would last 4.1 months, compared to 4 months in April; Realtors group considers less than a five months' supply as consistent with a tight market
Single-family home sales decreased 0.6 percent last month to an annual rate of 4.81 million
Purchases of condominium and co-op units rose 1.6 percent to a 620,000 pace
First-time buyers made up 31 percent of sales, down from 33 percent a year ago