The Mistakes Investors Are Making When It Comes to the Trade War
(Bloomberg) -- Investors may be mispricing the trade war by dumping Chinese shares more aggressively than those in Taiwan, Malaysia and South Korea, according to Bloomberg Economics' Fielding Chen and Tom Orlik.
China's benchmark Shanghai Composite Index slumped 3.8 percent Tuesday, the biggest decline in Asia, even though many of its neighbors are more exposed to trade skirmishes, the economists wrote in a June 20 note. The index was down a further 1 percent Wednesday.
"The pattern of declines did not reflect the distribution of risks," said Chen and Orlik. "The reality is that even with U.S. tariffs imposed directly on China, the small share of exports in GDP, and the outsize role of imported components in those exports, mean China's exposure is relatively limited."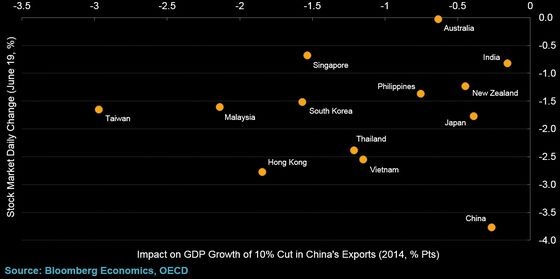 Taiwan, Malaysia, Hong Kong and South Korea stand out with the largest exposure to a drop in China's exports to the U.S., they wrote, based on data from the Organisation for Economic Co-operation and Development . Their shipments of components to China as a share of gross domestic product are larger than China's own value-added exports as a share of its economy they said.
Benchmark stock gauges in Taiwan and Malaysia declined 1.7 percent and 1.6 percent each Tuesday, outperforming their Chinese counterpart. South Korea's Kospi Index fell 1.5 percent before rebounding as much as 1.1 percent Wednesday.