Powell Downplays Concern About Overheating as Jobless Rate Falls
(Bloomberg) -- Federal Reserve Chairman Jerome Powell played down worries that today's low unemployment rate heralds a return to the high-inflation era begun in the 1960's and instead saw potential lasting economic benefits from a taut jobs market.
While emphasizing that the case for continued gradual interest-rate increases remained strong, Powell's comments suggest he sees no need for now to hold back the economy and lift joblessness by sharply tightening credit.
"There is a lot to like about low unemployment," he told a European Central Bank forum in Sintra, Portugal on Wednesday, repeating a comment he made to reporters last week after the Fed raised rates for the second time this year.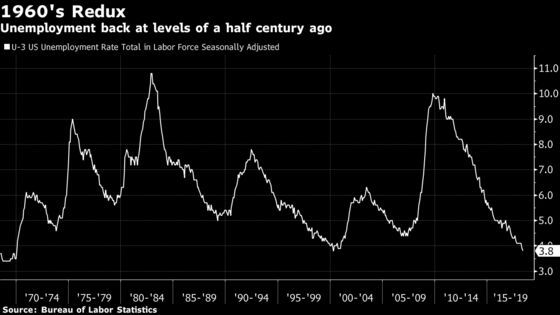 At 3.8 percent in May, the unemployment rate is back at levels that prevailed in the late 1960's, when a super-tight jobs market triggered a wage-price spiral that led to the double-digit inflation of the following decade.
"The U.S. economy has changed in many ways over the past 50 years," the Fed chief said, in arguing that the historical precedent of rapidly rising price pressures might not apply now. The workforce is better educated and inflation expectations more firmly anchored.
Indeed, the tight jobs market could be good for the economy in the long-run, he said. It is drawing more people into the labor force and may eventually end up boosting productivity and the economy's potential to grow.
His comments hearkened back to those made by his predecessor, Janet Yellen, who in 2016 raised the possibility of running the economy hot in order to repair some of the damage done to it by the financial crisis and its aftermath.
Powell called the jobs market "particularly robust" and said that many measures suggest the U.S. is near full employment. Wage growth though remains moderate, indicating that the market is not "excessively tight," he said.
"With unemployment low and expected to decline further, inflation close to our objective, and the risks to the outlook roughly balanced, the case for continued gradual increases in the federal funds rate is strong," the Fed chief said.
Also arguing for further rate hikes: an accommodative monetary stance, according to Powell, who noted that rates are still about 100 basis points below the level policy makers generally reckon are neutral for the economy.
Powell though did say that the Fed's outlook could change depending on what happens on the trade front.
U.S. President Donald Trump on Monday threatened to impose tariffs on another $200 billion of Chinese imports, prompting a response from Beijing warning of additional retaliation. The European Union also made good on a threat to hit American goods with retaliatory tariffs.
"Changes in trade policy could cause us to have to question the outlook," Powell said. "For the first time, we're hearing about decisions to postpone investment, postpone hiring."