European Firms See Progress But Still Unequal Treatment in China
(Bloomberg) -- President Donald Trump has said that the U.S. trade with China is neither fair nor reciprocal, and he has some support from an unexpected quarter -- European companies.
A slim majority of European firms in China think that foreign-invested companies are treated unfairly, and almost two-thirds think that there's a lack of reciprocity between the access to China's markets that they get, and the access Chinese companies get to Europe. That's according to a survey of business confidence from the European Union Chamber of Commerce in China.
Made in China 2025 -- the nation's flagship industrial policy which the U.S. has singled out for criticism -- was also seen as a problem, with 43 percent of companies surveyed saying they had seen increased discrimination under the plan. While the chamber said "visible progress" had been made around intellectual property, 51 percent of firms said enforcement of IP in China was still inadequate.
"Chinese companies are becoming more competitive also on a global level," chamber president Mats Harborn said in an interview with Bloomberg Television. "The pampering and the protection, discrimination against foreign companies, that has to stop."
Here are some selected findings from the report, which was released on Wednesday: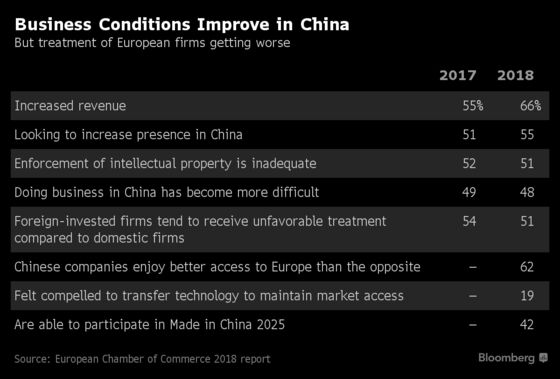 The report was based on a survey of more than 1,600 member companies.
Harborn said that European firms are now examining "on a daily basis" how to mitigate the potential impact of the escalating trade war between the U.S. and China.
Companies are "rearranging supply chains, looking at production systems," he said. They're "also taking measures for the worst scenario, which is that the present boom cycle is perhaps coming to an end."