Emerging Market Rout Tests Brazil Central Bank on Rate Decision
(Bloomberg) -- Brazil is next to face the turmoil that has rattled emerging markets and arm-twisted central bankers from India to Argentina into rate hikes.
For now it looks like central bank chief Ilan Goldfajn may be able to hold his ground, keeping the key lending rate in Wednesday's decision-making meeting unchanged. Calls for monetary tightening amid political uncertainty and a 12 percent drop of the real have eased as the central bank stepped up measures to combat currency volatility and the economic recovery is running out of steam.
"If it raises rates now, it just increases expectations for further hikes in coming meetings," Thais Zara, chief economist at Rosenberg Consultores Associados in Sao Paulo, said in an interview. "The central bank can't act in response to tension in the market."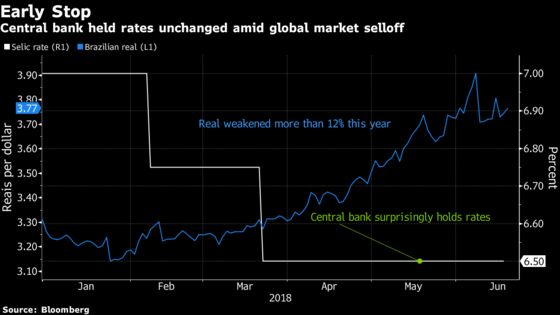 Goldfajn surprised markets in May when he held the Selic rate at 6.5 percent, and all but one economist in a Bloomberg survey expect policy makers to hold tight again. Traders who had fully priced in a quarter-point rise as recently as June 14 are now evenly divided between a hold and a hike.
Rising U.S. Treasury yields and an escalating trade war between the U.S. and China have hammered emerging markets. Argentina, Turkey, India and Indonesia all lifted borrowing costs in just over a month to defend their currencies as investors dumped riskier assets.
Goldfajn, by contrast, has stuck to his guns, saying the central bank will not use monetary policy to control the exchange rate but use other tools such as foreign-exchange swaps and, international reserves, if necessary, to provide liquidity and currency volatility.
"Brazil has high credibility compared to other emerging market central banks," said Per Hammarlund, chief emerging-markets strategist at SEB in Stockholm.
Backing up the hold argument is a stuttering economy with high unemployment and uneven demand keeping 12-month consumer price increases well below target at 2.86 percent. Growth forecasts for 2018 have dropped to 1.8 percent as a recent nationwide truckers' strike buffeted investor confidence.
With inflation expectations below target through 2019, Goldfajn can afford to stand pat on rates for now, according to Mauricio Oreng, a strategist at Rabobank in Sao Paulo. But it may be only a question of time before Brazil too will be forced to increase borrowing costs, he said.
"For the rest of this year's meetings, conditions are fluid and the situation can change and force them to raise the Selic," said Oreng.