ECB's Job-Rich Recovery Shows Up in Portugal as Italy Struggles
(Bloomberg) -- The European Central Bank's choice of Portugal for its annual forum puts its officials in a nation that shows what can be achieved by cheap funding and a program of economic reform -- and the limits.
Portuguese unemployment has dived since the euro area came out of a double-dip recession and debt crisis in 2013, and is now below the currency bloc's average. The turnaround is partly due to economic reforms required as part of its 2011 bailout by the European Union and the International Monetary Fund, and partly because of the ECB's ultra-low interest rates and bond-buying.
Follow Draghi, Powell, Kuroda and Lowe on a panel at 2:30 p.m. in Sintra
That's likely to please ECB President Mario Draghi, who used his opening speech in the hilltop resort of Sintra to praise the euro zone's "job-rich" recovery. It's also in stark contrast to Italy, which avoided financial rescue but put off the structural adjustments that could have helped people back to work.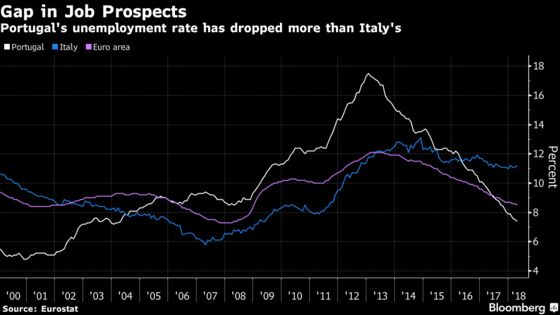 "I wish Italy had the same prospects as Portugal these days," Italian-born Luigi Zingales, professor of finance at the University of Chicago Booth School of Business, said in a Bloomberg TV interview in Sintra. Portugal "went through a very tough time, they went through a program with very strict guidelines. But they are coming out of it."
The country made hiring and collective bargaining more flexible, changes described by the IMF as crucial in facilitating the employment-driven character of the recovery. The reforms helped cut production costs in the country, increasing its competitiveness. That's vital because membership of the euro means currency devaluation, which would largely achieve the same thing, wasn't an option.
Italy, on the other hand, hasn't managed to align wage growth with productivity, even after a controversial labor-reform package was introduced in 2015. Voters have now elected an anti-establishment government that plans to boost public spending despite having the highest debt burden in the region.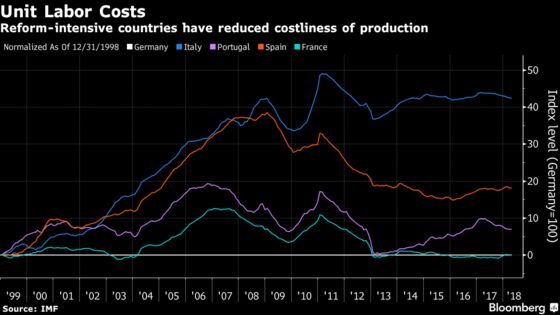 Portugal has managed to avert such a rise in populist sentiment, but the current Socialist administration is signaling that the pain of structural reforms has gone far enough. After taking office in 2015, Prime Minister Antonio Costa reversed state salary cuts, raised the minimum wage and reduced the working week for state employees.
That trend has raised some concerns at the ECB and the European Commission, which said in a joint economic assessment of the country last week that "it remains essential for policies to continue supporting the adaptability of the labor market."
For central bankers, the country demonstrates that there is only so much they can do to help boost growth, particularly as gradually accelerating price pressures reduce the need for accommodative policy.
When Draghi put his institution last week on a gradual path toward halting its stimulus by ending net bond purchases, he also reiterated his call for governments to "substantially" step up structural reforms to boost growth potential.
The same goes for rebuilding fiscal buffers. Portugal is one of several countries at risk from tighter monetary policy because of a debt burden of about 126 percent of gross domestic product -- behind only Greece and Italy.