Chinese Equity Selloff Abates as Authorities Call for Calm
(Bloomberg) -- Declines in Chinese stocks and the yuan came to a halt as the government stepped up efforts to limit trade tension fallout.
The Shanghai Composite Index rose 0.3 percent on Wednesday, erasing an earlier loss of 1.2 percent, after plummeting almost 4 percent on Tuesday as investors unwound leveraged positions. The yuan snapped its steepest two-day loss since 2015 after policymakers set the daily fixing at a much stronger level than expected.
People's Bank of China Governor Yi Gang urged investors to take a rational view, saying policy makers are prepared for outside shocks, after $406 billion was wiped from the value of the nation's stock market on Tuesday. The trigger for the losses was Donald Trump's threat to unleash a wave of new tariffs on Chinese imports, but other pressures are also weighing on the equity market, one of the world's worst performing this year.
Analysts remain downbeat, with worsening trade ties seen casting a shadow on stocks for some time to come.
"The market is yet to bottom out as possible twists and turns in China-U.S. trade talks will continue to weigh on sentiment," said Sun Jianbo, president of China Vision Capital Management in Beijing. "Stock declines would prompt investors to cut leverage, which will in turn lead to further losses on the market, and that's a vicious cycle."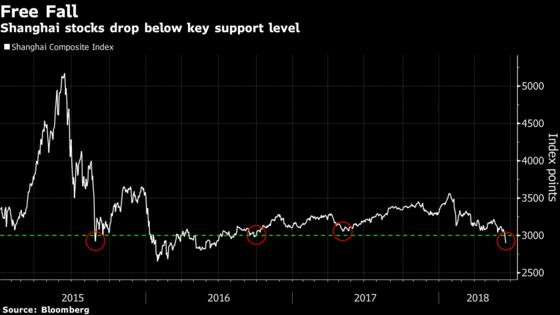 The outstanding balance of margin debt on the Shanghai Stock Exchange dropped 2.4 percent to 567.9 billion yuan ($88 billion) on Tuesday as escalating tensions with the U.S. sent 1,023 stocks on Chinese exchanges down by the daily 10 percent limit -- or more than one in four.
Official media sought to project a positive image. The China Securities Journal said in a front page article on Wednesday that the resilience of the nation's economic development will be better than expected, while the Shanghai Securities News said stable liquidity would support the market.
Such optimism will be of little succor to investors after Chinese equities lost more than $1.6 trillion in value since their January high. In addition to trade war concerns, sentiment has been undermined by weak spots in the economy, rising corporate defaults and the government's financial deleveraging campaign.
"The double whammy of domestic and external risks is hitting market confidence," said Wu Kan, a fund manager at Shanshan Finance in Shanghai. "The downtrend is unlikely to reverse soon, unless China finetunes its financial deleveraging policies or the trade situation stabilizes."
The yuan gained 0.2 percent to 6.4697 per dollar after tumbling 1.3 percent in the past two sessions. Investors are keeping a close eye on the daily fixing for clues on whether officials will use China's currency as a weapon to combat Trump's tariff threats.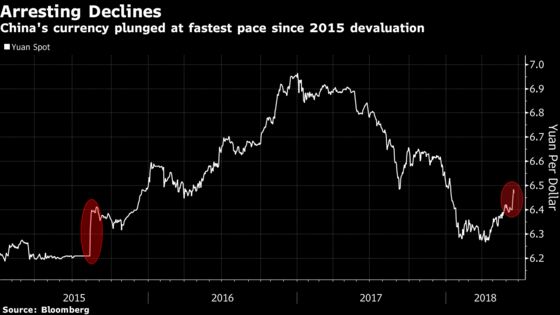 "The PBOC is probably attempting to use the stronger-than-expected fixing to avoid a simultaneous selloff in the yuan and China equities," said Ken Cheung, a senior currency strategist at Mizuho Bank in Hong Kong. "Stabilizing sentiment is the central bank's primary task at the moment."
The turbulence has been generally positive for the bond market, with the yield on sovereign debt due in a decade dropping by the most in two months Tuesday. The yield rose today for the first time in five days, gaining 3 basis points to 3.62 percent.