BOE Seen Holding Rate for Now, Hiking Later: Decision Day Guide
(Bloomberg) -- The Bank of England is set to wait a little longer before following up on last year's interest-rate hike after a run of mixed economic data.
All of the 38 analysts surveyed by Bloomberg expect the Monetary Policy Committee to vote in favor of keeping rates unchanged on Thursday. A 7-2 split is seen as the mostly likely outcome, with Ian McCafferty and Michael Saunders continuing their push for an immediate increase. The decision will be published at noon, alongside a statement and minutes of the deliberations.
Following officials' decision to keep rates at 0.5 percent in May, a month once seen as almost certain for a hike, BOE Governor Mark Carney said that he and the majority "thought it made sense to take a bit of time" to gauge the economy after the first-quarter weakness. Markets will be hoping the June minutes shed further light on that assessment after figures that have provided no clear direction.
The largest part of the British economy has provided some of the most positive signs of a rebound after a snowy first three months of the year that saw growth almost grind to a halt. The BOE has said it expects the 0.1 percent gross domestic product reading to be revised higher and activity to pick up in the second quarter -- a view supported by better-than-forecast services output in May.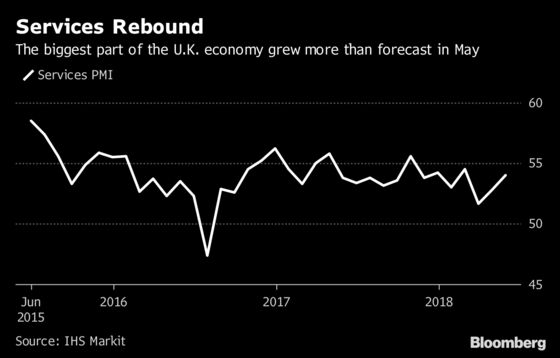 Retail sales also suggest a more positive shift, beating economist forecasts for both April and May, when hotter-than-average public holidays and the wedding of Prince Harry and Meghan Markle tempted Britons to spend on new clothes and party food.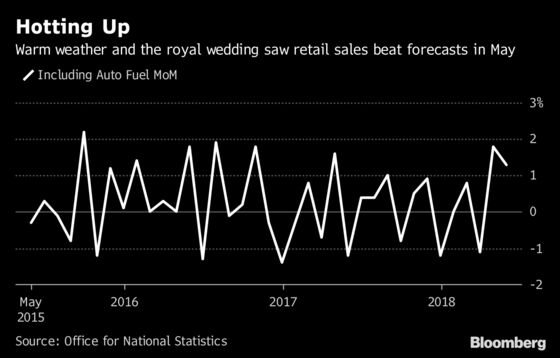 Yet, away from the celebrations and sunshine, gloom prevails in some parts of the economy. Manufacturing output slumped the most in 5 1/2 years in April and gains in construction were lukewarm. Wages -- which have a been a focus for policy makers -- also added to the mixed picture, rising less than forecast.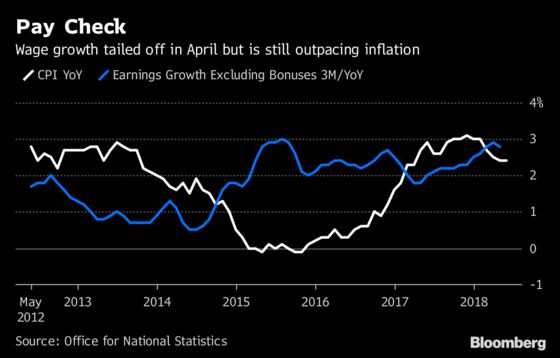 All that has left markets underwhelmed, pricing in an about a 45 percent chance of a rate hike in August, though investors still see an 80 percent chance of a quarter-point increase by the end of the year.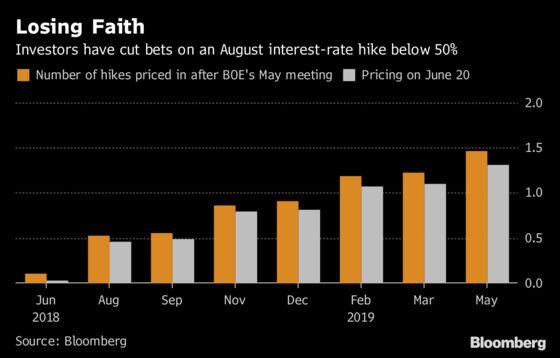 Amid such finely balanced expectations for future tightening, the minutes could provide economists with the greatest clues so far as to how policy makers are absorbing the data so far. That may prove particularly important with the U.K. statistics office about to start publication of a new monthly gross domestic product figure that will leave both market and central bank in the dark as to the preliminary reading for the second quarter until after their August decision.
What Our Economists Say:
The BOE hypothesized in May that the first quarter slowdown was temporary. Six weeks later the picture isn't much clearer, leaving very little chance of any policy action on Thursday. In the coming six weeks we expect the Monetary Policy Committee's reading of the economy to be proved correct, paving the way for an interest rate hike in August.

-- Dan Hanson and Jamie Murray, Bloomberg Economics. Read the full U.K. Preview.