Bank of Japan's Kuroda Says 3% Wage Gains Needed for Price Goal
(Bloomberg) -- Bank of Japan Governor Haruhiko Kuroda endorsed a Japanese government call for employers to raise wages by 3 percent a year -- far faster than the current pace -- to help the central bank meet its inflation target.
"The government request for 3 percent wage increase is quite appropriate," Kuroda said Wednesday during a panel discussion at a European Central Bank forum in Sintra, Portugal.
Though the pace of Japan's wage gains has picked up in 2018, they remain a missing link in the central bank's push to get inflation to its 2 percent goal.
"While the labor productivity increase is around 1 percent, that means a 3 percent wage increase is necessary to be consistent with a 2 percent price stability target," Kuroda said on a panel with Federal Reserve Chairman Jerome Powell, ECB President Mario Draghi and Reserve Bank of Australia Governor Philip Lowe.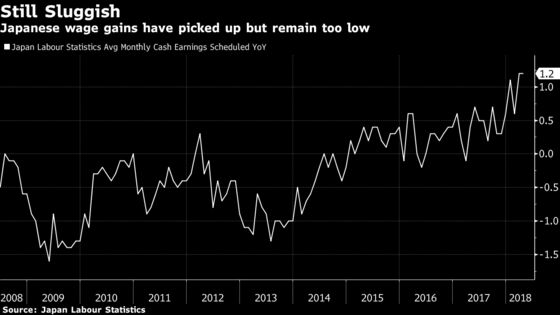 The Japanese government has been asking labor and business to raise wages in the last five years, this year urging a 3 percent wage increase during so-called spring offensive.
"The final result is not yet known," Kuroda said. "Also the government has been raising minimum wages by 3 percent almost every year," he said. "This is consistent with our price stability target."
With inflation falling short, the BOJ last week maintained its aggressive asset-purchase and yield-curve targets. At 0.7 percent in April, core inflation is less than halfway toward the goal, with no acceleration expected by economists when May data are released on Friday.
The BOJ has held to its current policy since 2016, when it shifted focus to managing Japan's yield curve so the 10-year rate remains at around 0 percent. It still has a massive asset-purchase program, with a guideline of buying around 80 trillion yen of Japanese government bonds a year, although the actual level of purchases has dropped well below that level.