A Trade 'Discussion' With Trump Can Hurt
(Bloomberg Opinion) -- The U.S. is waging a trade "discussion," not a war — that's how Larry Kudlow, President Donald Trump's economic adviser, put it earlier this month after his administration hit the European Union (and other allies) with tariffs on steel and aluminum. The direct impact was seen by some as minimal, given these exports account for 0.05 percent of the bloc's GDP.
But this "discussion" has created very real effects — especially given Trump's predilection for incendiary rhetoric and insulting tweets. That should worry Europeans, considering how its economic engine — Germany — depends so much on exports.
There are signs that world trade had already begun to soften before Trump's metal tariffs came into effect on June 1 (he'd been threatening them since at least early March). Freight rates fell in the first three months of the year, as tracked by the Baltic Dry Index and the Shanghai Containerized Freight Index, and have only partially recovered. Air freight demand in March grew at the slowest pace in 22 months, according to industry body IATA, which warned of the damage from protectionist measures.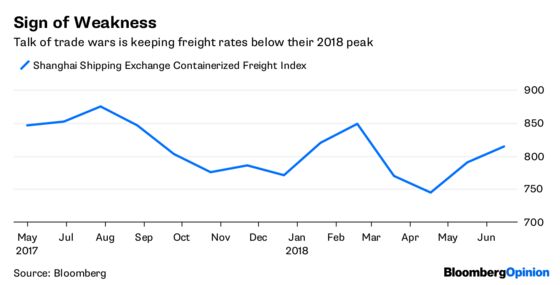 Against this kind of backdrop, it's probably no surprise that Germany, where trade accounts for over 80 percent of GDP, has been underperforming. Quarterly economic growth was below the euro-zone average in the first three months of 2018, falling to 0.3 percent from 0.6 percent. Export growth is slowing, and private-sector investment is weakening.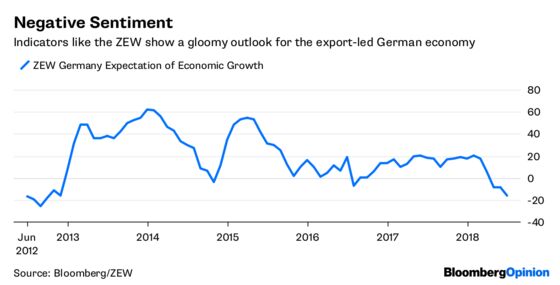 And the outlook is for things to get worse. The Ifo Institute cut its German economic growth forecasts to 1.8 percent for this year and next, citing trade. Manufacturing confidence has fallen since January to a near 10-month low. The ZEW index of German economic growth expectations has fallen to its lowest since 2012. Though the impact from these shifts has yet to show up in official data, and sentiment can turn for more than one reason, the effects of the jawboning are nevertheless real.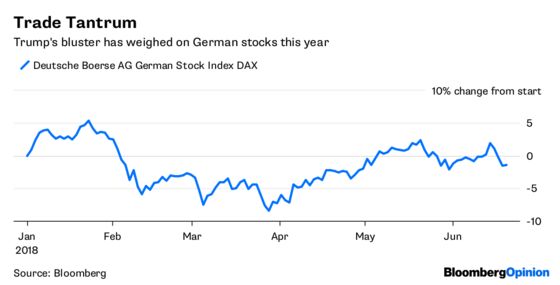 The U.S. is Germany's top export market, taking 8.7 percent of the goods it sends abroad, according to Deutsche Bank. Metals are one thing, but cars and capital goods are another. To see an American president threatening painful tariffs on German autos — even if said president has family ties to Bavaria — will be enough for some wary CEOs to hesitate before making big investments.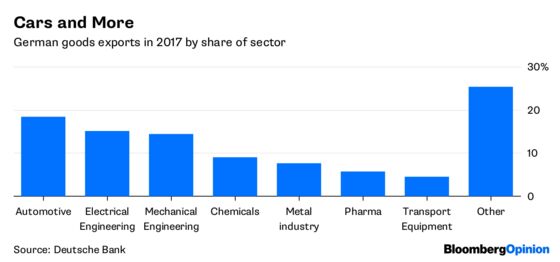 Global trade is also multilateral and complex, and that means that even tariffs designed to specifically hit China can end up squeezing Europe too. Worries that cheap goods destined for the U.S. could end up in the EU instead, undercutting local producers, look justified. And supply chains will surely feel at least some disruption.
While it's tempting to blame Germany as the cause of a lot of Europe's problems, given its trade surplus is so excessive that it has been called out by other European countries and the IMF, it's hard to see how throttling trade will address this. Export-focused countries like Sweden and Switzerland are warning of the ripple effects on their economies; those in the U.K. cheering at the thought of Brexit would do well to wonder what negotiating new trade deals in this environment will be like.
Sure, the worst may not come to pass, and the U.S. may step back from the brink of a full-blown global trade war. But the impact of Trump's trade bluster is real. Even if tensions de-escalate, the damage to investors' valuations for Europe Inc. will linger.