Volvo Fears for Future of Global Trade as U.S. Plant Opens
(Bloomberg) -- When Volvo Car Group broke ground on its first U.S. assembly plant in 2015, it was a proof point in the Swedish automaker's rebound and global expansion, not a chess move in anticipation of a possible trade war.
Now that the factory is about to begin production, it's poised to serve as a small hedge against tariffs at a time when new or heightened trade barriers are being threatened almost daily.
"With all the nervousness we have now in the business, we are very glad that we are here with a local factory," Chief Executive Officer Hakan Samuelsson said in a Bloomberg Television interview. "Without that, we would be even more worried about the future."
The carmaker on Wednesday revealed its redesigned S60 mid-size sedan, a model it's been producing in China and importing into the U.S. Making the car in South Carolina enables the company to sidestep the tariffs President Donald Trump plans to apply to Chinese autos. But with the model accounting for less than 9 percent of Volvo's U.S. sales this year through May, most of Volvo's lineup will still be exposed to import taxes.
As a Swedish carmaker owned by a Chinese billionaire and creating jobs in the American South, Volvo is a poster child for how globally interconnected the auto industry has become. It's been flourishing under the light-touch patronage of its owner, Li Shufu's Zhejiang Geely Holding Group Co., investing $11 billion since 2010 to expand and modernize its manufacturing footprint and overhaul its product lineup.
Volvo still has more investing to do. The new plant 40 miles northwest of Charleston will officially begin production of the S60 later this year with 1,100 employees. It's adding the ability to make the XC90 sport utility vehicle by 2021 and anticipates employing 3,900 within five years at the $1.1 billion complex.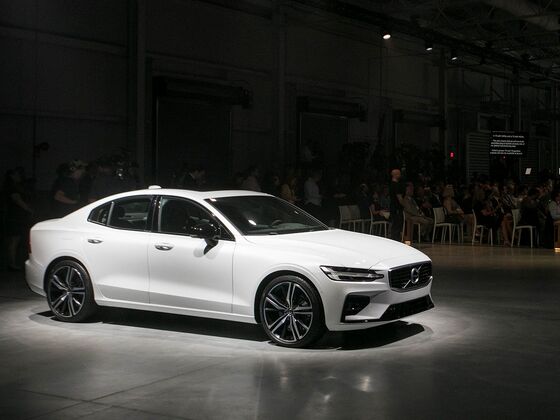 "They're fortunate they made this call, and I think it's probably going to play out for them quite well," said Charlie Chesbrough, senior economist at researcher Cox Automotive. Manufacturing in the U.S. insulates Volvo from "whatever volatility there may be out there from the negotiations."
The 2019 S60 will start at $35,800 before destination charges, with the top-level plug-in hybrid version costing almost $20,000 more. Some versions of sedan -- including a Polestar Engineered version -- will be offered as part of the company's Care by Volvo subscription service that bundles insurance and maintenance into a single monthly payment.
While U.S. auto sales have been slipping from their 2016 peak, Volvo's deliveries were up 41 percent this year through May. Samuelsson, 67, is trying to reach 800,000 global vehicle sales by 2020 -- 40 percent more than last year's record.
The CEO may have to overcome trade moves by Trump that have increasingly put automakers on edge. With interest rates and gasoline prices rising, the president increased manufacturers' raw material costs by imposing tariffs on imported steel and aluminum. Last month, he ordered an investigation into auto imports on national security grounds. Tariffs of as much as 25 percent that are said to be under consideration as part of that probe, which could cost the U.S. at least 1 million annual vehicle sales, according to researcher LMC Automotive.
On Friday, Trump vowed to impose tariffs on at least $50 billion in Chinese goods, including a 25 percent tariff on imported cars. After Beijing threatened to retaliate, Trump pledged to tax an additional $200 billion in Chinese imports.
Concerns are mounting that the world's two-biggest economies are headed toward a trade war. Bloomberg Economics's Tom Orlik and Fielding Chen write that the impact of decreased exports and lower manufacturing investment could add up to a 0.5 percent blow to China's gross domestic product.
Even with its U.S. plant, Volvo remains extremely vulnerable to taxes on imported cars. The Gothenburg, Sweden-based automaker imported all of the 81,651 vehicles it sold in the U.S. last year, and imports will still make up 87 percent of its deliveries to American consumers in 2019, according to LMC estimates.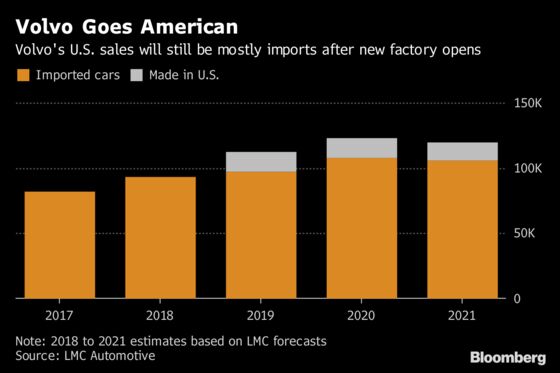 Trump, who has also focused significant ire on German automakers, wrote on Twitter in March that he would raise taxes on cars imported from all of Europe if the EU doesn't lower its trade barriers. Most Volvos sold in the U.S. are assembled in Sweden or Belgium.
While tariffs on foreign-made cars would hurt U.S. consumers by driving up prices, they could help the president achieve his goal of boosting domestic manufacturing, Cox Automotive's Chesbrough said.
"Any business that was thinking of doing anything -- building infrastructure, opening a new factory -- the U.S. would be the safest bet and getting safer, given the situation," he said.
Volvo's new 1,600-acre factory is capable of producing as many as 150,000 cars a year, nearly double last year's U.S. sales volume. The company has also added two vehicle assembly factories and an engine plant in China since Li, Geely's billionaire founder, acquired the company from Ford Motor Co. in 2010.
With its coastal port and limited presence of labor unions, South Carolina is a popular spot for foreign automakers. BMW AG has its largest plant in the world upstate in Spartanburg, and Daimler AG in September expects to complete construction of a plant near Charleston to produce Mercedes-Benz Sprinter vans. About 66,000 people work at more than 400 auto-related companies in the state, according to its commerce department.
In the end, it's "not impossible" that the U.S., China and Europe may actually agree to be more open with one another on trade, Samuelsson told Bloomberg TV.
"I really want or would expect and hope that we can put the prestige aside and the people sit down and come to a solution where we would have fair trade with low barriers in both directions," he said.