Trade Battle Cry Catches Sweden at the Worst Possible Juncture
(Bloomberg) -- Sweden's krona is on its knees, an uncertain election looms and the central bank has already scraped the barrel when it comes to stimulus. Add to that the fact that Sweden relies on trade for almost half its gross domestic product, and you begin to understand why a trade war would be particularly painful for Scandinavia's biggest economy.
"We won't be able to depreciate ourselves out of the next crisis," said Anna Breman, chief economist at Swedbank AB. "A weaker krona can serve as a tiny airbag but won't help much in a crisis situation."
Home to global giants like Ikea, H&M, Ericsson and Volvo, Sweden makes a living selling goods to the world. With U.S. President Donald Trump's tariffs triggering a tit-for-tat trade dispute across the world, Swedish Prime Minister Stefan Lofven, says it's clear that "dark clouds" are gathering on the horizon.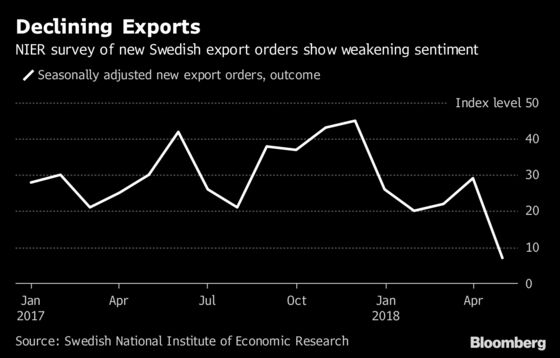 Trump is now threatening to impose tariffs on European cars. In a recent report, Swedbank laid out some of the risks. While Germany is Europe's industrial powerhouse, Sweden isn't far behind and derives more than 15 percent of its GDP from the production of steel and mining, machines and vehicles. The country is also one of the most open economies, with exports and imports equaling more than 75 percent of the economy, according to Swedbank.
If the trade dispute reaches German cars, Swedish industrial exports could rapidly become affected, according to Michael Grahn, chief economist at Danske Bank A/S in Stockholm.
"This in itself won't lead to a recession, but in combination with slower activity in the domestic construction sector -- the main growth driver of the Swedish economy in recent years -- the risk for a downturn is obvious," he said. "We're already seeing that exports are losing momentum in the sentiment indicators."
Sweden's political future after the Sept. 9 general election is uncertain. Polls suggest Lofven will struggle to be re-elected, with the risk of no clear outcome. There's also a risk the vote could realign the political order, with right-wing nationalists poised to make big gains as the country grapples with absorbing almost 500,000 immigrants and refugees over the past four years.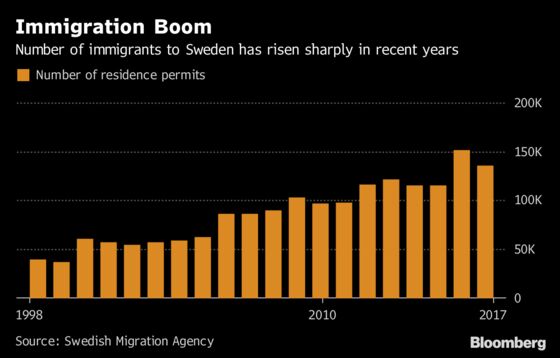 Andreas Wallstrom, a chief analyst at Nordea Bank AB, says policy makers will probably come to their senses, given the integration of global value chains.
"It will simply be too costly for Trump or whoever tries to," he said. "It's obvious that it will be very costly also for the American consumer, so I don't think the trade war will escalate."
One thing Sweden does have going for it is fiscal strength. By increasing taxes over the past four years during an economic boom, the Social Democratic-led government has built up significant buffers. Public debt is now at its lowest since the late 1970s, as a proportion of GDP.
But Sweden's surplus is vulnerable to the economic cycle and borrowing could be difficult if there's a serious global crisis. Consumer debt is at record levels after years of rock-bottom interest rates spurred consumers to borrow, leaving households more vulnerable.
The first impact of a trade war would be felt in the stock markets, spooking consumers and putting a break on investments, according to Breman. For now, Sweden's benchmark index is down 1.3 percent this year while the trade-weighted krona has slid about 4 percent.
A Swedish recession would be dire for the central bank. "The only avenue that remains open for the Riksbank to fulfill its mandate in the event of a new recession is outright FX purchases," said Roger Josefsson, an economist at Macrobond. "A new recession would break the Riksbank."