Powell's Puzzling U.S. Labor Market Looks Somewhat Like Japan's
(Bloomberg) -- U.S. policy makers for years sought to avoid what they saw as the Japanese disease of a deflation-wracked, depressed economy. But now Federal Reserve Chairman Jerome Powell seems to be hoping that the U.S. has grown a bit like Japan in one key respect: the jobs market.
In countenancing a fall in unemployment to levels that prevailed in the late 1960's, Powell is betting that it won't lead to the wage-price spiral of rapidly rising inflation that characterized that era. Instead, he appears to be counting on an experience a little more akin to present-day Japan, where a jobless rate well below that of America's hasn't generated all that much upward pressure on wages or inflation.
"Frankly, I do think there's a lot to like about low unemployment," Powell told a press conference on June 13 after the Fed raised interest rates for the second time this year.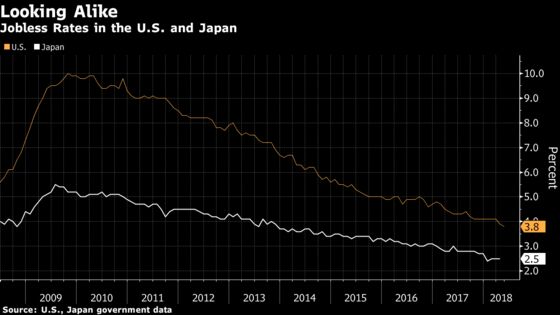 The risk is that low U.S. joblessness stokes wage demands and increases inflation to levels that the Fed deems unacceptable, forcing the central bank to jack up interest rates in response. That in turn could jeopardize the nine-year-old economic expansion.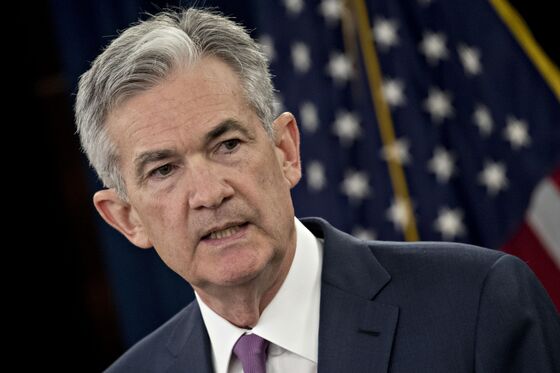 Powell will join Bank of Japan Governor Haruhiko Kuroda, European Central Bank chief Mario Draghi and Reserve Bank of Australia Governor Philip Lowe on a policy panel Wednesday at the ECB's annual forum in the Portuguese hilltop resort of Sintra. The topic of the conference: "Price and Wage-Setting in Advanced Economies."
U.S. salaries have picked up some as the labor market has strengthened, though Powell has said he has been surprised that the upturn hasn't proven stronger given how far unemployment has fallen. At 3.8 percent in May, the jobless rate is well down from its post-crisis peak of 10 percent in 2009 and is below the 4.5 percent level policy makers reckon is sustainable in the long-run.
"It's a bit of a puzzle," the Fed chief said, while adding that he expects wages to go up as the labor market tightens.
U.S. central bank officials see unemployment sinking to 3.5 percent by the end of 2019, according to their median forecast released on June 13. Yet Powell said he's sticking with his "patient" approach of gradually increasing interest rates even as inflation is projected to rise a smidgen above the Fed's 2 percent target.
In Japan, joblessness is lower still, at 2.5 percent in April, just a tick above the 25-year low set in January. There were 1.59 job openings for every job applicant in April, the highest level since 1974.
Yet wage increases have been modest at best and inflation has remained well below the BOJ's 2 percent target. Companies remain cautious about raising base salaries and opt to reward employees with bonuses as they are easier to cut in a downturn.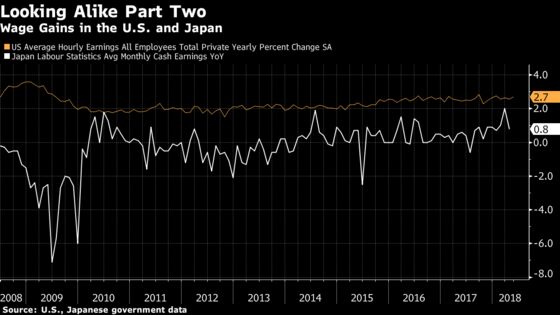 Economists have identified a variety of reasons for sluggish Japanese income gains -- and some of those have faint echoes in the U.S.
The number of non-regular Japanese workers -- those who fill part-time, temporary and contract jobs -- has grown about 40 percent since 2002. They earn less than permanent, full-time employees and have less bargaining power to win pay increases.
In the U.S., close to 25 percent more people were working part-time last year than in 2002, even though they preferred to have a full-time job. And just like in Japan, they found it difficult to boost their earnings.
About seven in 10 U.S. part-time workers didn't get a pay increase in the past year, based on the Fed's 2017 Survey of Household Economics and Decisionmaking. That compares to just 40 percent of full-time workers -- a divide that is similar to other data, according to Atlanta Fed senior policy adviser John Robertson.
Limited labor mobility is another cause of Japan's muted income gains, according to economists at the International Monetary Fund, who tied that to the country's system of lifetime employment. Workers who jump to new positions usually earn more.
In the U.S., the share of Americans moving is the lowest on record, according to the White House's Council of Economic Advisers.
"The geographic immobility of workers is a conundrum with no easy solution," it said in its annual economic report released on Feb. 21, adding that may be causing some Americans to stop looking for a job.
Another big shift in labor market dynamics common to both countries stems from their aging populations, though that's happening much more quickly in Japan than in the U.S. Older workers often earn more. So when they retire, that depresses the average salary.
"The so-called Silver Tsunami will continue to be a drag on aggregate wage growth for some time," San Francisco Fed economist Mary Daly and her colleagues wrote in a blog post last year, referring to the continued "large-scale exit of higher-paid baby boomers from the labor force."
U.S. companies also are increasingly rewarding their workers with bonuses rather than via increases in base salaries, although they still lag far behind their Japanese counterparts in following that practice.
Perhaps the biggest reason why Japanese wage increases and inflation remain so low is that the country's employees and employers believe they will stay that way, and act accordingly.
BOJ Governor Kuroda said at a press conference on June 15 that an entrenched "deflationary mindset" in Japanese companies and households creates a unique challenge to stoke inflation, as such attitudes don't exist in the U.S. or Europe.
And Powell wants to keep it that way. It's "very important" that inflation expectations remain well anchored at the Fed's 2 percent target and not fall below it, he said.
That may be why he's willing to risk comparisons to the Great Inflation era about a half century ago by accepting a jobless rate below 4 percent.