PBOC to Use Tools `Comprehensively' as Trade War Sparks Sell-Off
(Bloomberg) -- China's central bank called for investors to remain calm and pledged to use monetary policy "comprehensively," after an escalation of the stand-off with U.S. sent the nation's benchmark stock index plunging.
The People's Bank of China Governor, Yi Gang, said in an interview with the Shanghai Securities News published on the central bank's website late Tuesday that policy makers are prepared for outside shocks and that investors should take a rational view. The Shanghai Composite Index earlier slid 3.8 percent, falling below the 3,000 level previously breached during market crashes in 2015 and 2016.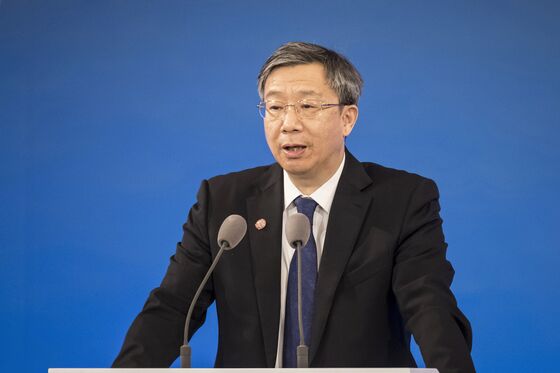 "We'll be forward-looking, prepare relevant policies, and comprehensively use all kinds of monetary policy tools," Yi said. Stock market turbulence is "mostly driven by sentiment," he said, adding that China has "room to face all sorts of trade friction."
President Donald Trump earlier threatened to impose further tariffs on $200 billion of China's exports, a rapid escalation of the two nations' trade conflict. The PBOC had already injected another 200 billion yuan ($31 billion) into the economy on Tuesday via its medium-term lending facility. Combined with the funds it added earlier this month, that's a net injection of 403.5 billion yuan so far in June, the most in any month since December 2016.
Those additional funds come after a statement on Monday which said the central bank will handle the "pace and intensity" of an ongoing campaign to reduce leverage in the economy, indicating that some leeway exists for policy tweaks as required. It also said the central bank had set up a global financial risk team to closely monitor any external and domestic risks.
"The central bank may hope to ease market sentiment before the trade war between China and the U.S. intensifies and avoid too much panic in markets," said David Qu, an economist at Australia & New Zealand Banking Group Ltd. in Shanghai. He added that monetary policy is "under pressure to take some action" in the face of rising bond defaults and corporate financing difficulties.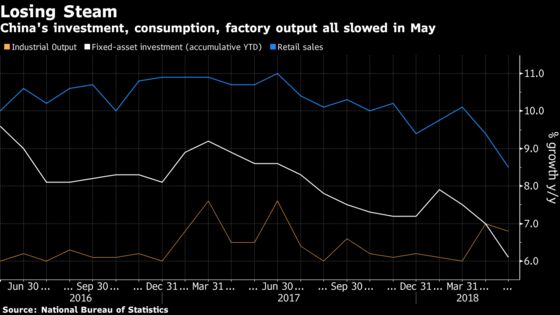 The rising prospect of an all out trade war complicates policy makers' efforts to curb debt in the world's second-largest economy, especially with signs that economic growth is already slowing down. May data for industrial output, retail sales and investment all came in beneath economist forecasts.
State media including the People's Daily have also tried to reassure investors. An article on page two of the Communist Party's flagship newspaper on Tuesday said the fundamentals of the Chinese economy haven't changed despite shifts in the domestic and external environment, and a separate story touted the government's fiscal policies as pro-growth.
In addition, a commentary written by Niu Juanjuan in the PBOC-run newspaper Financial News said the central bank is expected to increase targeted monetary support and become more flexible to cope with uncertainties.