In China-U.S. Trade Spat, Treasuries Are Off-Limits for Now
(Bloomberg Opinion) -- For bond investors, it's hard to get too worked up about trade tensions between the world's two biggest economies when China's huge hoard of U.S. Treasuries remains off-limits. 
China, the largest foreign owner of Treasuries, has kept its holdings remarkably steady over the past year even as President Donald Trump ramps up threats of tariffs. It had $1.18 trillion of U.S. debt as of April 30, up from $1.09 trillion a year earlier, according to data released Friday. That patience will be put to the test after Trump on Monday sought to identify $200 billion in Chinese imports for additional tariffs of 10 percent, plus another $200 billion if Beijing retaliates. That's on top of $50 billion announced on Friday. China promises to retaliate.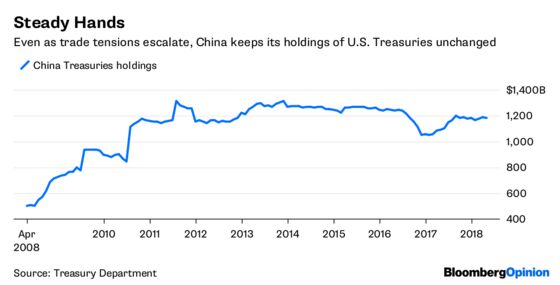 Of course, such measures would reverberate across the bond market through their economic impact. But the outcome is far from clear. The latest round of tariffs would boost prices for toys, tools, T-shirts and more, which could bolster inflation and push long-term yields higher. But if growth slows, that could depress rates and possibly even slow the Federal Reserve's tightening path. 
By contrast, the prospect of China leveraging its Treasuries holdings would have straightforward, lasting consequences for the U.S. It's bad enough that China hasn't been buying at the pace that it used to, dropping its share of the $14.9 trillion market to near the lowest since 2005. But the U.S. certainly can't afford to have China selling outright. Not at the same time the Fed is unwinding its balance sheet and the Treasury Department is increasing auction sizes to finance budget deficits. Borrowing costs are already at multiyear highs.
Now, offloading Treasuries is somewhat of a last-resort option for China. The country has a big trade surplus with the U.S. (hence Trump's scrutiny), which means its export-oriented companies tend to receive dollars from their sales. But they need renminbi to pay expenses locally. Enter the People's Bank of China, which buys and sells both currencies to manage its exchange rate. To earn something on its $3.1 trillion of foreign-exchange reserves, China plows dollars into Treasuries.
In short, Treasuries are nearly as crucial an underpinning to China's economic plumbing as America's. There aren't any other realistic alternatives to achieve the PBOC's desired outcome. Plus, the central bank is busy dealing with domestic issues, like leverage in its economy and a plunge in the nation's benchmark stock index. 
"So far, we don't see any evidence that China's using its Treasuries as part of the trade negotiations," Zach Pandl, co-head of global FX strategy at Goldman Sachs Group Inc., told Bloomberg News's Randall Woods and Katherine Greifeld last week.
That leaves the U.S. and China in an awkward position. China's Ministry of Commerce has labeled the latest tariff proposal as "extreme pressure and blackmail," while Trump on Monday decried China's "determination to keep the United States at a permanent and unfair disadvantage." All the while, the U.S. will continue to issue more and more debt, and China will buy enough to keep its holdings steady.
The two nations aren't at the point of mutually assured destruction just yet, and bond traders realize that. The benchmark 10-year Treasury yield is down less than three basis points. That's not haven demand, nor is it panic selling. It's just noise.