EMs Can't Adjust Fast Enough to Stresses, Indrawati Says
(Bloomberg) -- Emerging markets are struggling to keep pace with rising global interest rates and heightened trade tensions, which are creating more uncertainty in the world, Indonesian Finance Minister Sri Mulyani Indrawati said.
Developing economies "cannot adjust well enough or fast enough" to the changes, Indrawati said in an interview in London with Bloomberg Television's Guy Johnson and Tom Keene on Tuesday. "That can create an environment for the global economy to have a downside risk."
Indonesia has been one of the hardest hit economies in Asia as foreign investors pull money out of emerging-market stocks and bonds. The rupiah is down 2.6 percent against the dollar this year, among the worst performers in the region.
Investors are bracing for more turmoil when financial markets in Indonesia reopen this week after being closed since June 11 to mark the end of the Muslim holy month of Ramadan. During that time, the Federal Reserve raised interest rates for a second time this year and turned more hawkish on hikes for the rest of the year. The European Central Bank announced it will phase out its bond-buying program in the final quarter.
Indrawati said the Fed and ECB had communicated its policy action well in advance and emerging markets need to adjust to this "new normal." At the same time, she said emerging economies in Asia were better placed to deal with the stresses than during the 1997-98 financial crisis and the 2013 Fed "taper tantrum."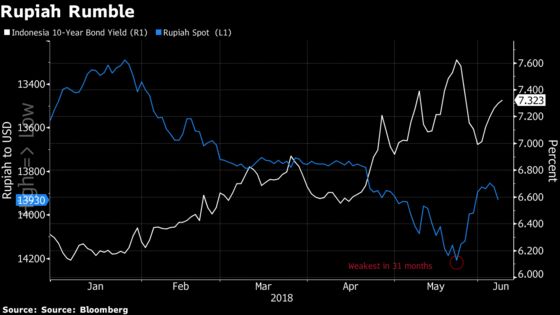 Economies across Southeast Asia have since adopted flexible exchange-rate policies, and she pointed to Indonesia's improved current-account deficit as an additional buffer. Indrawati said Indonesia would tackle further challenges not through "easy policy" but by "improving investment policy, creating a better business environment" to attract more fixed investment.
Emerging markets also are weighing the effects of the latest U.S.-China trade tensions, which have heated up with China vowing Tuesday to retaliate "forcefully" as U.S. President Donald Trump threatened tariffs on an additional $200 billion in Chinese imports. Indrawati said the "most important implication" of U.S. policy and rhetoric around trade is the uncertainty around how to settle disputes on a global scale.
The finance minister addressed China's rise, saying that other economies will have to adjust to its new global role.
Indrawati on China
"They are creating both trade as well as investment -- that creates both positives in many developing countries" in Asean as well as Africa and Latin America
Debt concerns are being addressed at the International Monetary Fund and World Bank
China is "definitely" engaged in global issues, including climate change
"For China to become a global player, they know they have to be able to show the leadership -- which is consistent with what they're doing."
Bank Indonesia will face another test with a scheduled policy decision next week. The central bank is ready to take steps in response to monetary policy action in the U.S. and Europe, with the possibility of an interest-rate hike at the June 27-28 meeting, Governor Perry Warjiyo said Monday.
"BI is ready to implement further policies to be pre-emptive, front-loading and ahead of the curve toward the new development of the Fed's and ECB's policy course," Warjiyo said in a response to questions via text message. "Further policies can be in the form of interest rate hike," accompanied by macro-prudential measures to spur growth in the housing sector, he said.
Less than a week in office, Warjiyo led the policy board in raising the benchmark rate on May 30 for a second time this year to 4.75 percent.