Emerging-Market Chaos Poses Dilemma for Hungary's Central Bank
(Bloomberg) -- Hungary's central bank is facing the biggest test in six years to its loose monetary policy.
Emerging-market turmoil has pushed the forint to its weakest in more than three years, while government bond yields have jumped, defying measures to keep them anchored. The question when the bank meets Tuesday is whether to stick to its easy-money pledge or present a plan toward tightening. Economists see the two main interest rates staying at record lows.
"The central bank will need to seriously think about the further continuation and efficiency of its ultra-loose monetary policy," Zoltan Arokszallasi, an analyst at Erste Group Bank AG in Vienna, said in an emailed note. The bank "could reassess some of its instruments and review some of its interim goals in order to restore confidence."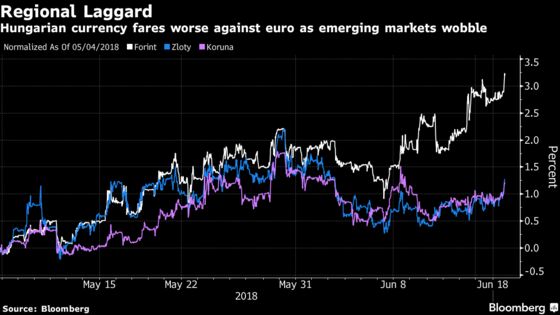 Investors are rethinking their approach to riskier developing-nation assets, prompting currency pain and emergency interest-rate hikes from Argentina to Turkey. But it's far from certain Hungary will take action. Despite the market pressure, rate-setters indicated last week that tightening remains unnecessary unless inflation quickens to endanger the 3 percent target.
Eyes will be on the Monetary Council's statement, due at 3 p.m. in Budapest, an hour after the decisions on rates, for an updated outlook on the bank's unconventional policy. The bank will also publish new economic forecasts, probably showing faster consumer-price growth because of higher oil prices. The most recent projection, from March, put 2018 inflation at 2.5 percent.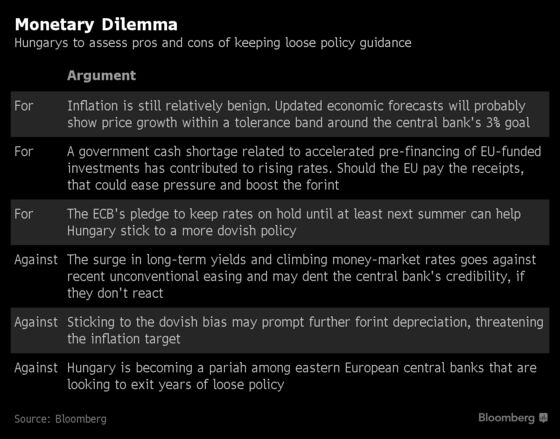 While Hungary has shunned the monetary tightening seen in other parts of eastern Europe, its economy is benefiting from the same forces driving growth across the region. Its budget deficit remains within European Union limits and the current account is in surplus. For some investors, that's grounds to not veer sharply away from the dovish tone.
"We'd expect only incremental change," Morgan Stanley analyst Pasquale Diana said in an emailed note. "Only more pronounced weakness in the currency, in the order of 7 percent-10 percent, is likely to create pressure on the central bank to tighten more aggressively."