BOE August Rate Increase in Question as U.K. Economy Falters
(Bloomberg) -- Economists are increasingly questioning whether the Bank of England will raise interest rates in the coming months.
Less than 55 percent of analysts surveyed by Bloomberg expect a hike in August, down from 60 percent in a similar poll in May. BOE officials are gathering this week for their June policy meeting, the minutes of which have the potential to lay the ground work for an increase later in the summer to 0.75 percent from 0.5 percent.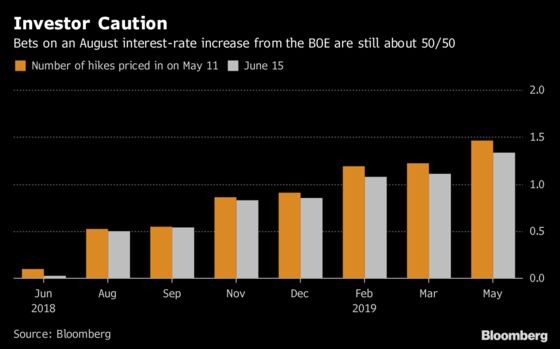 "The minutes are likely to allude to intensifying political risks associated with Brexit negotiations," Goldman Sachs economist Adrian Paul said in a note published on Monday. "We expect the Committee to remain equivocal over the precise timing of incremental tightening."
The uncertainty created by negotiations for the U.K. to leave the European Union is muddying the path away from extraordinary stimulus for the BOE. Since their last meeting in May, global growth has moderated and the anticipated British rebound from a snow-blighted first quarter has been slow to assert itself.
Read more: BOE interest rate at 0.75% by end-18
Economists' less-than-fulsome endorsement of an August hike is also reflected in markets, where investors assign about a 50 percent chance to such a move. It also contrasts with their exuberance earlier this year, when almost three-quarters were expecting a hike in May less than a month before that decision.
Those bets were derailed by a spate of worse-than-expected data and the public doubts of BOE governor Mark Carney. Since then, policy makers have expressed optimism that the economy is bouncing back from a near-stagnation at the start of the year. They also say limited and gradual rate hikes are still required over the next few years to keep inflation in check, partly because the economy's "speed limit" has fallen.
What Our Economists Say:
"Our estimates suggest the neutral rate of interest is currently a touch above the Bank of England's policy rate. But even that modest stimulus may be too much considering the economy is almost running at full capacity." 

--Dan Hanson, Bloomberg Economics. Read the full U.K. Insight.
Though data last week painted a mixed picture, economists expect growth to rebound to 0.4 percent in this quarter, in line with BOE officials, and see the measure staying at that level through the end of 2019. For the whole of 2018, economists cut their projection to 1.3 percent from 1.4 percent in the previous survey.
Despite the question marks over growth, two of the BOE's nine policy makers --Michael Saunders and Ian McCafferty -- are expected to keep up their push to increase rates this week.