UBS Expects China to Ease Cash Crunch as Maturity Wall Looms
(Bloomberg) -- China may soften its stance on curbing excess leverage to help struggling companies refinance 1.4 trillion yuan ($218 billion) of debt due in third quarter, according to UBS Asset Management.
"At the moment the Chinese government is holding to its guns, wanting to deleverage," said Hayden Briscoe, Asia Pacific head of fixed income at the asset manager, which has 792 billion Swiss francs ($793 billion) of assets under management as of March 31. "But I think risks are rising the further we get into this deleveraging phase."
UBS Asset Management expects China to start allowing money to flow back into some sectors, either through a cut in the reserve requirement ratio or via the medium-term lending facility.
Tighter financial conditions onshore saw net financing of corporate bonds turn negative for the first time in almost a year in May, which means the amount of debt maturing topped issuance. The average cost of selling bonds in China by non-financial companies is already at a three-year high, threatening to push even more firms into default after at least 17 missed payments this year.
China is trying to strike a balance in its efforts to curb excess borrowing in the financial sector without hurting the real economy. Most recently, the central bank broadened the range of collateral it accepts in its medium term lending operations, adding debt instruments tied to small-business funding and the green economy. However, with more signs of funding stress emerging, calls for easing are getting louder.
Aberdeen Standard Investments also said earlier this month that it expects China to soften leverage curbs and ease monetary policy with a likely RRR cut.
"We'll continue to see some large refinancing needs onshore and until we see the maturities being rolled over easily, the market will remain nervous," said Briscoe. "We expect somewhere around September to be the point when rollover concerns diminish."
He sees supply pressure on dollar bonds to ease if more Chinese companies fund in the local market. Spreads on Asian high yield bonds have risen 125 basis points since the start of the year, according to ICE Bank of America Merrill Lynch Indexes.
Asian credit spreads are seen widening another 20-30 basis points further from current levels before contracting by the end of the year on expectations of the government's liquidity easing measures, according to UBS.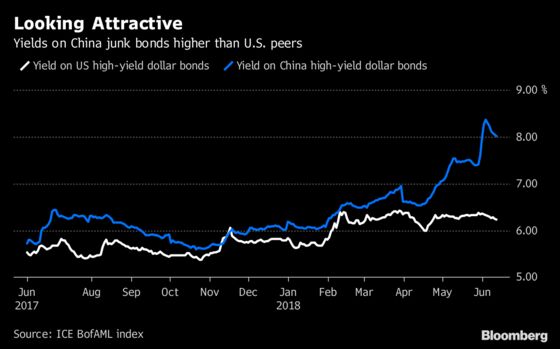 "We are getting back to levels that will attract back the China bid currently sitting on the sidelines, while bonds are beginning to offer double digit returns, global yields are likely to remain low," said Briscoe. "From the global perspective right now, investors might want to exit US high yield investment to its Asian peers for the substantial pickup."
UBS Asset Management is moving out of Asia investment grade into high yield for its portfolios, and is adding high-quality Chinese properties names within the high-yield sector. The move reflects the improving fundamentals of China credits, especially for the nation's high-quality property developers.
"China's housing market is balanced and in a stable position in terms of fundamentals. The sector offers good value," said Briscoe, who particularly favours the nation's high-quality real-estate companies' short-dated notes.